Awards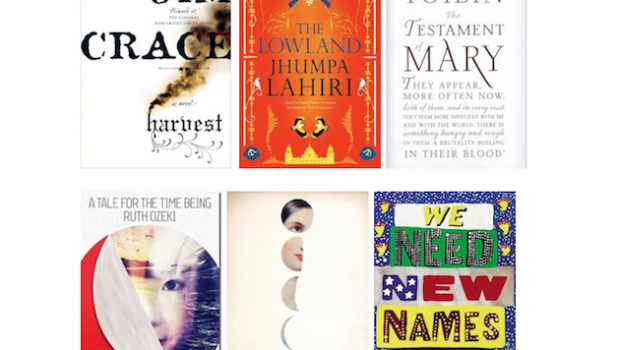 Published on September 10th, 2013
0
Man Booker Shortlist 2013
For the latest fiction reviews, sign up to our newsletter The Omnivore Digest.
---
Harvest by Jim Crace
As late summer steals in and the final pearls of barley are gleaned, a village comes under threat. A trio of outsiders – two men and a dangerously magnetic woman – arrives on the woodland borders and puts up a make-shift camp. That same night, the local manor house is set on fire. Over the course of seven days, Walter Thirsk sees his hamlet unmade: the harvest blackened by smoke and fear, the new arrivals cruelly punished, and his neighbours held captive on suspicion of witchcraft. (Picador)
Read all reviews | Buy the book
---
The Lowland by Jhumpa Lahiri
From Subhash's earliest memories, at every point, his brother was there. In the suburban streets of Calcutta where they wandered before dusk and in the hyacinth-strewn ponds where they played for hours on end, Udayan was always in his older brother's sight. So close in age, they were inseparable in childhood and yet, as the years pass – as U.S tanks roll into Vietnam and riots sweep across India – their brotherly bond can do nothing to forestall the tragedy that will upend their lives.
Read all reviews | Buy the book
---
The Testament of Mary by Colm Toibin
For Mary, her son has been lost to the world, and now, living in exile and in fear, she tries to piece together the memories of the events that led to her son's brutal death. To her he was a vulnerable figure, surrounded by men who could not be trusted, living in a time of turmoil and change. As her life and her suffering begin to acquire the resonance of myth, Mary struggles to break the silence surrounding what she knows to have happened. She slowly emerges as a figure of immense moral stature as well as a woman from history. (Viking)
Read all reviews | Buy the book
---
A Tale for the Time Being by Ruth Ozeki
Ruth discovers a Hello Kitty lunchbox washed up on the shore of her beach home. Within it lies a diary that expresses the hopes and dreams of a young girl. She suspects it might have arrived on a drift of debris from the 2011 tsunami. With every turn of the page, she is sucked deeper into an enchanting mystery. In a small cafe in Tokyo, sixteen-year-old Nao Yasutani is navigating the challenges thrown up by modern life. (Canongate)
Read all reviews | Buy the book
---
 The Luminaries by Eleanor Catton
It is 1866, and Walter Moody has come to make his fortune upon the New Zealand goldfields. On arrival, he stumbles across a tense gathering of twelve local men, who have met in secret to discuss a series of unsolved crimes. A wealthy man has vanished, a whore has tried to end her life, and an enormous fortune has been discovered in the home of a luckless drunk. Moody is soon drawn into the mystery: a network of fates and fortunes that is as complex and exquisitely patterned as the night sky. (Granta)
Read all reviews | Buy the book
---
We Need New Names by NoViolet Bulawayo
Darling and her friends live in a shanty called Paradise, which of course is no such thing. It isn't all bad, though. There's mischief and adventure, games of Find bin Laden, stealing guavas, singing Lady Gaga at the tops of their voices. They dream of the paradises of America, Dubai, Europe. For Darling, that dream will come true. But, like the thousands of people all over the world trying to forge new lives far from home, Darling finds this new paradise brings its own set of challenges. (Chatto & Windus)
Read all reviews | Buy the book
---