Author Pitch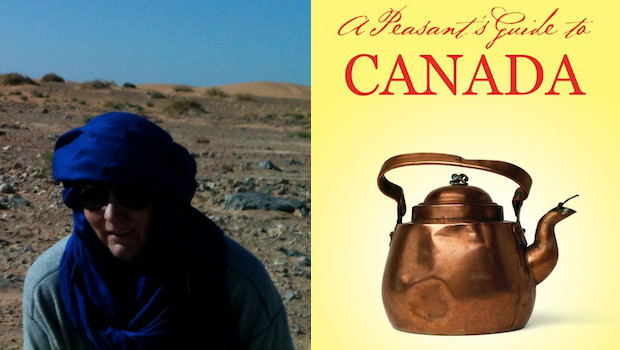 Published on April 28th, 2014
0
Author Pitch: A Peasant's Guide to Canada by Lyn Marsh
After 35 years of teaching English Lyn Marsh thought it was about time she told her own story. Woven with Canadian literary history, A Peasant's Guide to Canada is the tale of one woman's pioneering life on a farm in Ontario. Like Little Failure, Gary Shteyngart's recently published memoir, it also describes what it is like to be a child of immigrants.
Tell us a bit about yourself:
I am a retired professor of English from Toronto and for the past six years have lived in London where I find myself becoming a bit of a culture vulture. I am very close to my two adult daughters and we get together, in between their frenetic working and family lives and my writing, to have mani-pedis in a little Vietnamese Nail Bar in Shoreditch. I also enjoy the company of other older women who are also widows, mistresses and divorcees. (WMDs). It suits me perfectly.
Who are your favourite authors?
Julian Barnes, Jenny Diski, Diana Athill, Michael Ondaatje.
What are you reading at the moment?
Out of Time by Lynne Segal. Ammonites and Leaping Fish by Penelope Lively. All the Rage by A.L. Kennedy.
What made you sit down to write your memoir, A Peasant's Guide to Canada?
After 35 years of teaching I though I should like to tell my own tale. Every English teacher thinks he or she has a book in the skull but few actually manage to get past the outline on the bar napkins. I have been writing all sorts of tedious academic and journalistic prose for 25 years and it was enormously satisfying to have a secret, intensely personal, memoir and weave into that alternative fictional lives. Also humbling.
How has your family background — particularly the immigrant experience — shaped you as a writer?
My family were rough-hewn, stalwart, peasants focussed on survival, with little time for frippery, nonsense or "too much" education. That first immigrant flight after the Finnish civil war meant that no time was "wasted" on books or art or music. My 1960s rebellion against that family ethic drove me into libraries, art galleries and concert halls but one never leaves genes behind. I am still a hard-working Finnish-Canadian, just in a different arena.
A Peasant's Guide to Canada is part of the Spinning Wheel Project. Can you tell us about the other books in the series?
The next book is a novel, The Sunday Painter, which concerns the life of an English woman born in 1900 who finds herself in Canada after the Great War. It is about the generation-after-trauma who keenly felt the need to recover a sense of calm, hope and meaning. She is a horse-breeder (drawn from letters and Canadian archive diaries) who, during the depression of the 1930s, managed to forge a business and a create a family in the bush and face the outbreak of another war in Europe which took a toll on her adopted country. The regenerative images of Ontario that she paints are based on the work of the landscape painter, David Milne — a portrait of a landscape I lived in for 26 years.
The third book, Shintangle, is a comic novel about an older woman, divorced and ill, who struggles with what it means to age on one's own. It is set in the recent past of London riots, internet pornography, failing families and corruption. Although it did not seem comic while I was writing, the character had a mind of her own and refused to go down gently.
The Spinning Wheel Project started with my grandmother, who carried the family spinning wheel with her from Finland, and it now sits in my living room in London. The trans-Atlantic journeys of three generations of women are what tie these books together. The Sock Drawer is a collection of mismatched stories and essays about thinking, writing, travel and painting.
Hopefully, these will be published in the following year.
Do you find it easier to write fiction or memoir?
I have no idea, in truth. I write what I feel like working on. When an issue keeps me up at night I deal with it as best I can in the morning by writing or painting.
Why did you decide to self-publish? And why did you choose to publish under a pen-name?
It is almost impossible to get an agent or publishing house to read work; it is a waste of time and postage to send out letters and much more efficient to do what one wants on one's own. Family tradition. My pen-name is a translation from the Finnish and I like reinvention.
Imagine your ideal reader: which authors do they enjoy?
The ones I also love to read. And they enjoy painters.
Buy A Peasant's Guide to Canada (ebook and paperback)
The Omnivore helps readers discover the best indie authors. If you would like to be featured on Author Pitch email authorpitch@theomnivore.com