Biography & Memoir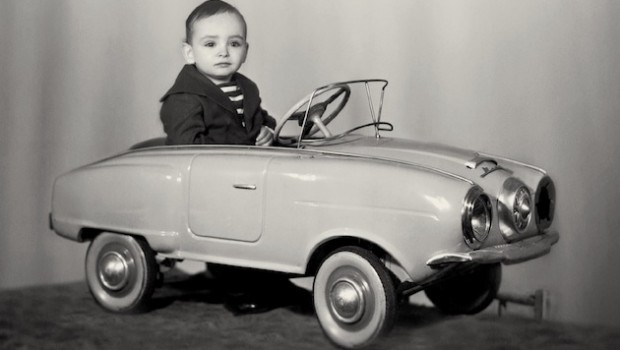 Published on February 28th, 2014
0
Little Failure: A Memoir by Gary Shteyngart
| Press reviews | Buy the book | Have your say |
Blurb: Gary Shteyngart's loving but mismatched parents dreamed that he would become a lawyer, or at least an accountant, something their distracted son was simply not cut out to do. Fusing English and Russian, his mother created the term Failurchka-'Little Failure'-which she applied to her son. With love. Mostly.
Read more
A candid and deeply poignant story of a Soviet family's trials and tribulations, and of their escape in 1979 to the consumerist promised land of the USA, Little Failure is also an exceptionally funny account of the author's transformation from asthmatic toddler in Leningrad to 40-something Manhattanite with a receding hairline and a memoir to write.
Gary Shteyngart was born in Leningrad in 1972. In 2007 he was named one of Granta's Best Young American novelists. His debut The Russian Debutante's Handbook was widely acclaimed (and won the National Jewish Book Award for Fiction), as were his second, Absurdistan (one of the 10 Best Books of the Year in the New York Times) and Super Sad True Love Story. He writes regularly for the New Yorker.
(Hamish Hamilton, 2014)
Read an extract from Little Failure | The Guardian
---
Helen Davies, The Sunday Times 
"This memoir is a series of dizzying episodes — that just about hang together —of cringing embarrassment, of therapy-inducing pain and of a pathological desire to be a writer. As such, it is a near-perfect account of the churning state of one man's inner life. Shteyngart is greedily honest. His prose is greased with all the genetic self-loathing and inner melancholy that a Soviet Jewish émigré with severe asthma and more than a few social-inadequacy issues can muster… Despite the raconteuring edge and the obvious need to be FUNNY, Little Failure is, in the end, a love story. "
Read full review (£)
---
J Robert Lennon, The Guardian 
"So you've read Shteyngart's three antic, comic, unfailingly energetic and vaguely autobiographical novels. Do you really need to read the memoir? Actually, yes, you do, because Little Failure is terrific – the author's funniest, saddest and most honest work to date. Like many immigrant stories, it's a tale of early suffering, gradual assimilation and eventual self-actualisation. But it's also a powerful and often moving portrait of a troubled man's creative origins, comparable in intent (and sometimes in quality) to some of the genre's high-water marks, and owing particular debts to WG Sebald, Thomas Bernhard and, most significantly, Vladimir Nabokov, whose name Shteyngart often invokes. "
---
David Annand, The Telegraph 
"By turns naive and cynical, hyper-intelligent and comically immature, empathetic on the page and unfeeling off it, his self-portrait of a Soviet Jew transplanted aged seven from Leningrad to Eighties America is a masterpiece of comic deprecation."
---
Erica Wagner, New Statesman 
"The best memoirs are ones that are perfectly individuated, particular – and yet somehow speak to every reader's life, every reader's family. This is one of those rare books. It is suffused not only with the author's trademark wit but also with raking honesty."
---
Linda Grant, 
The Independent 
"So what's good about it? Obviously it's funny; what Russian Jew isn't? Then there are the illustrations. He has tracked his progress from Soviet babyhood to American slacker in a series of family photographs in which he appears as "a Marcel Proust-looking boy in a kind of Warsaw Pact Speedo… staring into the limitless future." A family portrait from 1940 in the Ukraine depicts women in tight satin dresses and suited men glancing to their left. "Just about everyone is going to die soon," the caption reads."
---
Andy Borowitz, The New York Times 
"[A] hilarious and moving memoir… Thanks to Little Failure, the army of readers who love Gary Shteyngart is about to get bigger."
---
Lisa Zeidner, The Washington Post 
"…he puts his years of psychoanalysis to good use in exposing and coming to terms with his family's dynamic: his father's verbal and physical abuse; his mother's sometimes-epic distance; his parents' bickering; their wonky, non-Spock-approved parenting style of both over- and under-attentiveness. Any memoirist will attest that it takes a lot of care and courage to present people close to you in this way — especially if you still love them, if your goal isn't simple Mommie Dearest-style revenge. Little Failure is dedicated to Shteyngart's parents, and his nuanced portrait of them is a gift."
---
The Economist 
"Mr Shteyngart possesses a rare trait for a serious novelist: he is funny—and not just knowing-nod, wry-smile funny, but laugh-aloud, drink-no-liquids-while-reading funny. His style of humour is antic and wry, and rests equally on sharp turns of phrase and scarcely credible situations. Underlying his writing, always, is yearning, love and often deep sadness. The title of his third novel, Super Sad True Love Story, could apply equally well to any of his works. And it could apply to this, his memoir and first work of non-fiction. Little Failure is a deeply moving love letter to Mr Shteyngart's life and everything in it: America, Russia, literature, women and his parents."
---
Michiko Kakutani, The New York Times 
"Mr. Shteyngart's evocative new memoir, Little Failure, is as entertaining as it's moving, and it underscores the autobiographical sources of his fiction. His heroes tend to share not only his self-esteem issues and biting wit, but also his appreciation of the absurdities of life on both sides of the former Iron Curtain. He gives us a visceral sense of what it was like to be uprooted as a child from the monochromatic world of the U.S.S.R. and plunked down in 1979, in the perplexing and gloriously Technicolor world of the U.S. of A. In doing so, he poignantly conveys his parents' hard-fought efforts to make new lives for themselves in America, while using humor to chronicle his own difficulties in trying to bridge the dislocations of two cultures."
---
Randy Boyagoda, Financial Times 
"Rambling, indulgent, slapdash, Gary Shteyngart's new memoir is frenetically funny, even overwhelmingly enjoyable… The greater challenge of Little Failure concerns Shteyngart's ultimate ambition to be taken seriously, even solemnly: the final section is an account of a trip to Russia that he made, as an adult, with his parents. The journey exposes family secrets and inspires moving confessions of regret and love. It's fine stuff, but because of how frequently, and finally tiresomely, Shteyngart bends the serious into the satirical and silly elsewhere in the book, you find yourself waiting for the literary equivalent of a whoopee cushion to go off."
---
Buy the book
Amazon | Foyles | Hive | Waterstones