Awards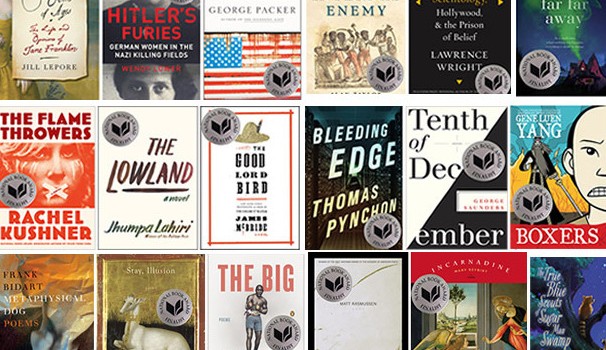 Published on October 18th, 2013
0
National Book Awards Fiction Finalists
---

The Flamethrowers by Rachel Kushner
The year is 1977 and Reno – so called because of the place of her birth – has come to New York intent on turning her fascination with motorcycles and speed into art. She meets a group of dreamers and raconteurs who submit her to a sentimental education of sorts.
Read all reviews | Buy the book
---

The Lowland by Jhumpa Lahiri
From Subhash's earliest memories, at every point, his brother was there. So close in age, they were inseparable in childhood and yet, as the years pass – as U.S tanks roll into Vietnam and riots sweep across India – their brotherly bond can do nothing to forestall the tragedy that will upend their lives.
Read all reviews | Buy all reviews
---

The Good Lord Bird by John McBride
Henry Shackleford is a young slave living in the Kansas Territory in 1857, when the region is a battleground between anti- and pro-slavery forces. When John Brown, the legendary abolitionist, arrives in the area, an argument between Brown and Henry's master quickly turns violent.
Read all reviews | Buy all reviews
---
Tenth of December by George Saunders
From the undisputed master of the short story, George Saunders, comes a dazzling and disturbing new collection. His most wryly hilarious work to date, Tenth of December illuminates human experience and explores figures lost in a labyrinth of troubling preoccupations.
Read all reviews | Buy all reviews
---
Bleeding Edge by Thomas Pynchon
It is 2001 in New York City, in the lull between the collapse of the dotcom boom and the terrible events of September 11th. Silicon Alley is a ghost town, Web 1.0 is having adolescent angst, Google has yet to IPO, Microsoft is still considered the Evil Empire.
Read all reviews | Buy all reviews
---