Awards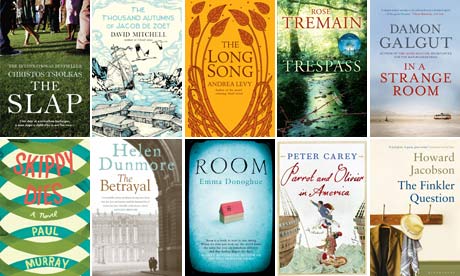 Published on October 29th, 2010
0
Man Booker Prize 2010 Shortlist and Winner
Julian Treslove, a professionally unspectacular former BBC radio producer, and Sam Finkler, a popular Jewish philosopher, writer and television personality, are old school friends. Despite a prickly relationship and very different lives, they've never quite lost touch with each other  - or with their former teacher, Libor.
---
Olivier is a French aristocrat, the traumatised child of survivors of the Revolution. Parrot the son of an itinerant printer who always wanted to be an artist but has ended up a servant. Born on different sides of history, their lives will be brought together by their travels in America.
---
It's Jack's birthday, and he's excited about turning five. Jack lives with his Ma in Room, which has a locked door and a skylight, and measures 11 feet by 11 feet. He loves watching TV, and the cartoon characters he calls friends, but he knows that nothing he sees on screen is truly real – only him, Ma and the things in Room.
Until the day Ma admits that there's a world outside…
---
In a Strange Room by Damon Galgut

A young man takes three journeys, through Greece, India and Africa. He travels lightly, simply. To those who travel with him and those whom he meets on the way – including a handsome, enigmatic stranger, a group of careless backpackers and a woman on the edge – he is the Follower, the Lover and the Guardian. Yet, despite the man's best intentions, each journey ends in disaster.
---
The Long Song by Andrea Levy

"You do not know me yet. My son Thomas, who is publishing this book, tells me, it is customary at this place in a novel to give the reader a little taste of the story that is held within these pages. As your storyteller, I am to convey that this tale is set in Jamaica during the last turbulent years of slavery and the early years of freedom that followed…
---
Serge Carrefax spends his childhood at Versoie House, where his father teaches deaf children to speak when he's not experimenting with wireless telegraphy. Sophie, Serge's sister and only connection to the world at large, takes outrageous liberties with Serge's young body – which may explain the unusual sexual predilections that haunt him for the rest of his life.