History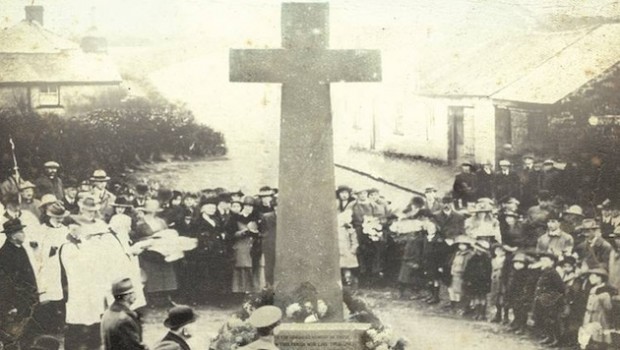 Published on November 18th, 2012
0
War Memorial by Clive Aslet
| Press reviews | Buy the book | Have your say |
Blurb: Clive Aslet's War Memorial: The Story of One Village's Sacrifice from 1914 to 2003, is a powerful story of those who died in war.
Read more
Who were the men and women whose names are commemorated on war memorials around the country? Where did they live – and how and why did they die?
Such questions usually go unanswered, but this book for the first time unravels the story of one war memorial, in the Dartmoor village of Lydford. Through original documents, Clive Aslet traces in vivid detail the lives of the twenty-two men, and one woman, who made the supreme sacrifice fighting for Britain in the two World Wars, the Falklands and Iraq.
The result is an intimate portrait of one corner of the countryside in the twentieth century, and an extraordinary tale of the endurance and bravery of otherwise ordinary people – farmers, masons, railway-workers, landowners, schoolchildren – who, but for the war memorial, would be forgotten.
The perfect book for those who loved The Real Dad's Army by Colonel Rodney Foster, War Memorial is about the people who laid down their lives for us, and who will always be remembered.
(Allen Lane, 2012)
Nigel Jones, The Sunday Telegraph 
"His book is at once a touching tribute to ordinary lives hallowed by the horrible accident of being brutally cut off long before their allotted time; and a vivid testimony to why memory – personal and collective – matters so much both to individuals, and to our increasingly fissiparous and fractured nation. In resurrecting these buried lives, Aslet has also carved out a valuable slice of English social history."
---
Christopher Silvester, Daily Express 
"With this moving book Aslet makes an important contribution to social history. He shows how those who died reflected the gradual transformation of Lydford from agricultural village to retirement community. The Second World War names were not traditional village people but occupied some of the big houses on the outskirts. Most of the stories are not tidy portraits of heroism but achingly real portraits of wartime loss experienced by a changing rural community."
---
Toby Clements, The Daily Telegraph 
"Aslet tells their stories with great elegance, and though the period has been gone over in exhaustive detail, he still manages fresh insights that bring it to vivid life. I particularly liked the nugget that one winter the snow lay so thick on the Ypres Salient that camouflage was provided in the form of ladies' night dresses. By following these everyday stories, Aslet throws up a surprisingly fascinating history of Lydford itself."
---
Christopher Hart, The Sunday Times 
"Along with being reminded of how hideous the first world war was, we're also reminded how few returned saying it had all been futile. Horrifying, gruesome, traumatic, yes: too traumatic to talk about for many, though some spoke with determined cheeriness of having "potted a Hun who was working on a trench", or having "rather a stiff time of it" under earth-shattering shelling. But the glib verdict of "It was all for nothing", rather the received wisdom nowadays, is rarely heard from those who were there. It is a challenge for Aslet that the lives and deaths of many on the memorial have to be reconstructed or conjectured from other sources. He gives us quite a bit of "Where did Harry go with the Machine Gun Corps? We do not know." Yet at other times the sparse, painful records (for instance, the recent death in Iraq of Private Andrew Kelly, just 18) are heart-wrenching in what they suggest."
Read full review (£)
---
David Crane, The Spectator 
"Aslet has done everything that can possibly be done — parish and school records, traditions, memories, team photographs, regimental diaries, army papers — to construct the circumstances of these men's lives and deaths, but at the heart of almost every one of these stories is a space which an individual once inhabited … This is a lament not a complaint — Aslet is wonderfully well equipped to piece together the fabric of village life, to chart its changing topography, the demise of old trades, its shifting social dynamics and the patterns of emigration that saw two of its villagers fight and die with Canadian units — and for the earliest names on the memorial, at least, it probably simply tells a sobering truth about a war that wasted life with such an obscene and systematic indifference."
---
Buy the book
Amazon | Foyles | Hive | Waterstones