Author Pitch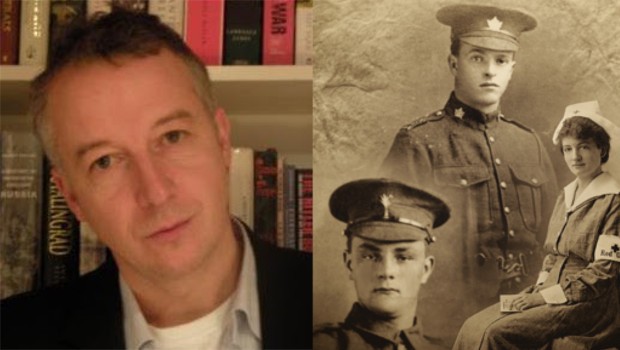 Published on May 13th, 2013
0
Author Pitch: This Time Tomorrow by Rupert Colley
Author and publisher Rupert Colley gives us the lowdown on his new novel, This Time Tomorrow, a passionate tale of brotherly love and betrayal set during World War One.
Tell us a bit about yourself:
I'm an ex-librarian, based in London, who, in my spare time, started a project called History In An Hour, a series of history ebooks 'for busy people'. Having sold History In An Hour to HarperCollins, I gave up work to concentrate on expanding the series and the website. Ten years ago, I wrote a number of novels which, slowly, I'm revisiting, editing and self-publishing. In February I published My Brother the Enemy, a novella set during the violent days of the Hungarian Revolution of 1956. Due in June is my novel set in 1930s Moscow, called The Black Maria, a novel about truth under Stalinism – the distortion of it, and the fear of it.
What's your book about?
This Time Tomorrow, set during and immediately following the First World War, is an emotional story of war, brotherly love, passion and betrayal.
Tell us more about the main character:
Guy Searight is a forthright and self-assured character who likes to do the 'right thing', which is why, at the outbreak of war in 1914, he answers his nation's call for volunteers. While away fighting for the 'noble cause', he is betrayed by his younger brother, the frivolous, carefree Jack. So when, a year later, Jack joins Guy in the trenches, Guy is determined his brother should suffer alone. But as Jack buckles under the strain of war, Guy questions his motivations and loyalties.
Where did you get the idea for your book?
I really can't remember! I originally wrote This Time Tomorrow in 2002, in a three-month burst of inspiration, but what set off that inspiration, I have no idea.
Why did you decide to self-publish?
HarperCollins publish my History In An Hour series and do a fine job of it. But the things I missed about running the series by myself was the sense of control, of being able to make quick decisions and being answerable only to myself. I think it was that desire for autonomy that decided me on the self-publishing route for my fiction.
Imagine your ideal reader: which authors do they enjoy?
Someone who enjoys literary fiction with a historic setting but with themes that are universal and timeless: human frailty, loyalty and hurt. Someone who like novels with a cinematic feel. Someone who reads the works of authors such as Helen Dunmore, Rachel Seiffert and Jane Harris.
If you had to sum up your book in a "Hollywood pitch", how would you describe it?
Sebastian Faulks meets Michael Morpurgo.
---
Buy This Time Tomorrow (Kindle edition)
Find out more about History in an Hour
If you'd like to be on Author Pitch, please email authorpitch@theomnivore.com.