Politics & Society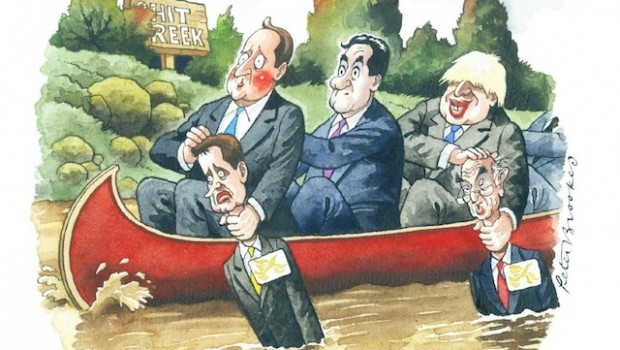 Published on October 7th, 2013
0
In it Together: The Inside Story of the Coalition Government by Matthew D'Ancona
| Press reviews | Buy the book | Have your say |
Blurb: Matthew d'Ancona's In It Together is the revelatory inside story of Britain's coalition government. Andrew Rawnsley told the inside story of new labour in Servants of the People and The End of the Party and now renowned political journalist Matt d'Ancona cuts right to the heart of the Lib Dem/Tory struggle in In It Together.
Read more
With exclusive, unprecedented access to all the major senior figures, from David Cameron, George Osborne, Boris Johnson and Nick Clegg, he will tell the truth behind key relationships, the U-turns, the shifts in policies, the dramatic fights and arguments and the warring within the party.
A breathtaking book that takes you into the heart of government, it reveals the truth behind the corridors of Whitehall and Number 10.
Matthew d'Ancona is the award-winning political columnist for The Sunday Telegraph, a position he has held since 1996. He was Deputy Editor of that paper before becoming editor of The Spectator in 2006. During his editorship, the magazine enjoyed record circulation and he was named Editor of the Year (Current Affairs) in the 2007 BSME awards.
(Viking, 2013)
Read an extract from the book | Telegraph
John Rentoul, The Independent
"D'Ancona has the great gift of turning the muddle of daily news into a story that flows naturally … Occasionally, d'Ancona's judgement seems faulty … In all, though, a magnificent – if interim – book. It captures the way this government has worked in all its nuances. And it never quite dispels the feeling that Cameron and Osborne are like clever student politicians."
---
Chris Mullin, The Times 
"D'Ancona, one of the most intelligent and perceptive centre-right commentators, brilliantly charts the long years in which the two parties have clung together through thick and thin — the rows, the rifts, the crises. But this is not a Punch and Judy show. He is good on the politics as well as the personalities … Though for the most part d'Ancona is well-informed and objective, there are omissions. It would have been good to see an analysis of the cynical process by which Tory strategists, by the constant repetition of two phrases ("Gordon Brown's debt" and "the mess that Labour left us"), set about convincing a fair section of the public that the crisis of 2008 had little to do with the bankers or the collapse of the US mortgage market and was instead all the fault of the last Government."
Read full review (£)
---
Janan Ganesh, Financial Times 
"[He] tries too hard to play up the psychodrama and intrigue of coalition relations … The book teems with brief, tetchy exchanges – between Cameron and Johnson, Clegg and Osborne, an adviser here and a civil servant there – that don't quite merit the sense of high drama that d'Ancona conjures. The most interesting thing about this government is its work: the spending cuts, the simultaneous reforms of all the public services, the restless interventionism abroad. The personalities, by contrast, are middle-of-the-road … Whatever the omissions, though, d'Ancona has taken the inchoate subject of the coalition and kneaded it into shape … his ultimate strength is his authorial skill."
---
Gaby Hinsliff, The Guardian 
"If the anecdotes in this book add up to anything bigger, it is less the inside story of the coalition – the Lib Dems appear mainly as bit players bumbling through someone else's drama – than a snapshot of one turbulent moment in Conservative history. And the dominant figure isn't David Cameron but George Osborne, portrayed here as the political and economic heart of this administration … The book skips oddly lightly over episodes that were not Osborne's finest hour"
---
Peter Oborne, The Spectator
"D'Ancona, a fellow of All Souls, has one of the finest minds in journalism. If he had concentrated on policies he could have produced a book of real importance. He could have spent time in the social security offices where the coalition's radical plans for welfare reform will succeed or fail. He could have gone to the schools where Gove's education reforms are being put into practice. He could have explained the intellectual basis of Osborne's economic policies (nobody else has tried this yet, and it is high time someone did); and  in doing all this, he could have placed the coalition in the political and moral history of our time. Instead, he has focused on personalities — rather insipid ones at that — and as a result In It Together is a tremendous disappointment."
---
Buy the book
Amazon | Foyles | Hive | Waterstones