History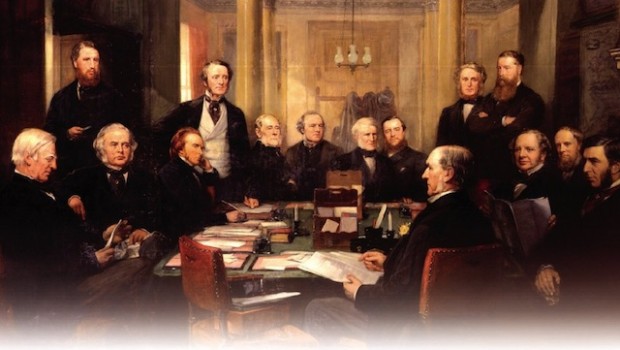 Published on October 8th, 2013
0
High Minds: The Victorians and the Birth of Modern Britain by Simon Heffer
| Press reviews | Buy the book | Have your say |
Blurb: Simon Heffer's new book forms an ambitious exploration of the making of the Victorian age and the Victorian mind.
Read more
Britain in the 1840s was a country wracked by poverty, unrest and uncertainty, where there were attempts to assassinate the Queen and her prime minister, and the ruling class lived in fear of riot and revolution. By the 1880s it was a confident nation of progress and prosperity, transformed not just by industrialisation but by new attitudes to politics, education, women and the working class. That it should have changed so radically was very largely the work of an astonishingly dynamic and high-minded group of people – politicians and philanthropists, writers and thinkers – who in a matter of decades fundamentally remade the country, its institutions and its mindset, and laid the foundations for modern society.
Simon Heffer's first major new book since the success of Strictly English explores this process of transformation, and will delight readers of similar titles such as A. N. Wilson's The Victorians. It traces the evolution of British democracy and shows how early laissez-faire attitudes to the lot of the less fortunate turned into campaigns to improve their lives and prospects. It analyses the birth of new attitudes to education, religion and science. And it shows how even such aesthetic issues as taste in architecture were swept in to broader debates about the direction that the country should take. In the process, Simon Heffer looks at the lives and deeds of major politicians, from the devout and principled Gladstone to the unscrupulous Disraeli; at the intellectual arguments that raged among writers and thinkers such as Matthew Arnold, Thomas Carlyle, and Samuel Butler; and at the 'great projects' of the age, from the Great Exhibition to the Albert Memorial. Drawing heavily on previously unpublished documents, he offers a superbly nuanced insight into life in an extraordinary era, populated by extraordinary people – and how our forebears' pursuit of perfection gave birth to modern Britain.
(Random House, 2013)
Sarah Bradford, Literary Review
"[A] monumental book … Heffer has written a stunning overview of the great and the good – and the notso-good – of Victorian society and of the changes which a largely benevolent capitalism brought about: the expansion of the railways, the penny post, the freeing of the press from Stamp Duty, and Bazalgette's network of sewers which cured London of 'the Great Stink' of the River Thames in the late 1850s. At nearly 900 pages his book is not easy going but it has left me, at least, with a nostalgia for the Victorians, their drive for perfection and improvement, their self-belief and, not least, the quality of their politicians."
Read full review (£)
---
William Waldegrave, The Times 
"This is a great sweeping, confident book, demonstrating the self-same energy and passion as do the Victorian heroes Heffer celebrates. It is a magnificent achievement."
Read full review (£)
---
Tristram Hunt, New Statesman
"High Minds is worthy to the task: serious, scholarly, grand and determined … Heffer is a leading Daily Mail journalist as well as a historian. While it would be unfair to load on him all the gripes and prejudices of the Mail group, if we had to think of the single most influential contemporary voice set against ambitious developments, risky schemes, state expenditure, high culture or iconoclastic thinking, it would be his editorial colleagues."
---
Philip Hensher, The Telegraph
"…an account of the Victorians that might have been based on an A-level syllabus from the Seventies. We have the Corn Laws, the Factory Acts, Disraeli and Gladstone, the Great Exhibition, the rise of the middle class and other favourite essay topics of that time. There is something amiable about taking the same line on a subject that one's teachers did, but it shows a lack of initiative…  Here anything not concerning religion and social improvement is not seen as important. Robert Browning, Oscar Wilde, Middlemarch and the Rossettis are not mentioned at all."
---
Buy the book
Amazon | Foyles | Hive | Waterstones