History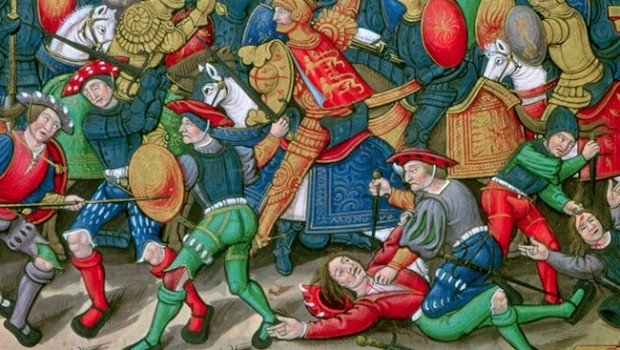 Published on August 27th, 2013
0
Edward III and the Triumph of England by Richard Barber
| Press reviews | Buy the book | Have your say |
Blurb: A fascinating recreation of the world of one of England's most charismatic monarchs, from award-winning author and historian Richard Barber. The destruction of the French army at Crécy in 1346 and the subsequent siege and capture of Calais marked a new era in European history. The most powerful, glamorous and respected of all western monarchies had been completely humiliated by England, a country long viewed either as a chaotic backwater or a mere French satellite.
Read more
The young Edward III's triumph would launch both countries, as we now know, into a grim cycle of some 90 years of further fighting ending with English defeat, but after Crécy anything seemed possible – Edward's claim to be King of France could be pressed home and, in any event, enormous rewards of land, treasure and prestige were available both to the king and to the close companions who had made the victory possible. It was to enshrine this moment that Edward created one of the most famous of all knightly orders, the Company of the Garter.
Barber writes about both the great campaigns and the individuals who formed the original membership of the Company – and through their biographies makes the period tangible and fascinating. This is a book about knighthood, battle tactics and grand strategy, but it is also about fashion, literature and the privates lives of everyone from queens to freebooters. Barber's book is a remarkable achievement – but also an extremely enjoyable one.
(Allen Lane, 2013)
---
Dan Jones, The Sunday Times 
"In terms of narrative form, it is a rambling disaster. Yet it is rescued by Barber's infectious passion for and deep knowledge of his subject matter, his elegant prose and rigorous historical analysis … Barber's book is, despite its curious form, a valuable and thorough addition to the body of work on this most impressive of English monarchs."
Read full review (£)
---
Ben Wild, The Guardian 
"While other historians have shown that Edward's campaigns did attract popular support, this new account, which focuses on military leadership and downgrades Edward's Arthurian connections, offers no convincing evidence of it. Barber does contribute something to our understanding of Edward III's victory, but his narrative, which emphasises individual actions, makes it difficult to accept – despite the book's title – that the king's accomplishments were simultaneously England's triumph."
---
Jonathan Sumption, Literary Review 
"[Barber] has written extensively about the ideology of the medieval nobility, with works on Arthurian legend and the Holy Grail, knighthood and chivalry, and a biography of the Black Prince to his name. Essentially, he shares the interests of Edward III himself, and in Edward III and the Triumph of England he has written the kind of book that the king would have enjoyed: full of battles, glitter and ceremony, with little or nothing about such vulgar matters as money or government … One would never guess that the reign of Edward III was a hollow failure that ended in bankruptcy and defeat, or that, for all his valour, he achieved not one of the political objectives for which he had set out on his adventure in the 1330s."
---
Nigel Jones, The Telegraph 
"True to the Garter's motto, "evil be to he who evil thinks", he takes Edward at his own value: a strong and wise ruler who did not let either the brutal realities of power or the tedious business of government get in the way of his own elevated conception of kingship. Could it be that Edward's dazzle has blinded Barber to the limitations of this "perfect king"?"
---
Buy the book
Amazon | Foyles | Hive | Waterstones
[AMAZONPRODUCT=0713998385]