Fiction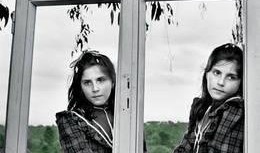 Published on June 16th, 2013
0
Sisterland by Curtis Sittenfeld
| Press reviews | Buy the book | Have your say |
Blurb: For identical twins, Kate and Violet are about as unlike as two peas from the same pod can be. Except in one respect – they share a hidden gift they call 'the Senses', a special kind of intuition that can allow them to see things that are yet to come. After Kate inadvertently reveals their secret when they are thirteen years old, they are set on diverging paths into their adult lives. Twenty years later Kate is a suburban housewife who suppresses her premonitions in the hope of leading a normal family life, while Violet lives alone and works as a psychic medium. Then one day Violet ignites a media storm by predicting a major earthquake in the St Louis area where they live. (Doubleday, 2013)
---
Viv Groskop, The Observer
"Although this isn't a thriller, it is a work of psychological genius and has a wonderful twist at the end. Sittenfeld has crafted a literary page-turner masquerading as a feud between two sisters. In reality it's about the politics of marital life and the difficulty of out-running your own childhood. It has all the best qualities of Tom Perrotta's Little Children and all the fine, up-close detail of Ann Patchett's work. There's a fizzing, daring originality to Sisterland that draws you in and takes your breath away."
---
Tom Cox, The Sunday Times
"Sittenfeld's forte might still be the final years of puberty, but Sisterland sees her continuing to broaden her canvas. It says a lot that one doesn't once question the veracity of the psychic episodes in this novel. Like Kate Atkinson with her recent Life After Life, Sittenfeld is a reliably realistic (if slightly dreamy) novelist who has here tackled a somewhat far-fetched concept outside her normal range and displayed impressive comfort in doing so."
---
Alex Clark, The Guardian
"Sisterland is not a perfect book: it is too long, has a few too many detailed digressions about life with toddlers and introduces too much – including what might have been a fruitful plotline about inter-racial marriage and parenthood – too late in the day. But it also has a delightfully devil-may‑care attitude towards what a novel can and can't include and a beautifully delicate way of describing both familial and conjugal love. Throw it all in, Sittenfeld seems to say. Who knows what's going to happen tomorrow?"
---
Charlotte Heathcote, The Daily Express
"It was Sittenfeld's brilliant and wholly addictive novel, American Wife, that put her on the literary map and to date she has sold 1.6million books (two have been Orange Prize-longlisted). Sisterland is a joy to read for similar reasons, namely Sittenfeld's ability to get under the skin of complicated, contradictory characters, capturing the anxieties, challenges and compromises of everyday life, love and parenthood so that even in a novel about ESP, you will find yourself nodding at the day-to-day dynamics and thinking, "Yes, that's exactly how it is.""
---
Michiko Kakutani, The New York Times
"Ms. Sittenfeld's gifts for portraying the inner lives of her heroines manage to transcend the silliness and contrivance of her plots. "Sisterland" may start out sounding like a sort of cloying Alice Hoffman novel, full of stage-managed whimsy, but it actually ends up being a lot closer, in terms of emotional chiaroscuro, to two classics about pairs of sisters, The Old Wives' Tale by Arnold Bennett and The Easter Parade by Richard Yates."
---
Sarah Churchwell, The New Statesman
"In Sisterland, Sittenfeld throws in a plot twist that is, as Kate says, "a situation from a soap opera". The problem is not only that what happens to Kate is improbable but that the woman we have come to know is precisely the person who would never make the choice that drives the story to its conclusion. The shift from the all-too-believable to the implausible is too abrupt but the questions it raises about self-fulfilling prophecies remain compelling."
---
Lesley McDowell, The Scotsman
There's a soap opera element to much of this, concerned as it is with the secrets and lies of relationships, and while the narrative is pulled along by the slow build-up to the prediction date, there are occasions when it almost stops dead, halted by flashbacks to Kate and Vi's school or college days, or the domesticity of the present, which is mired in nappies and baby feeds … That's fair enough, but it means that the cataclysmic event Vi has predicted and which Kate "senses" will happen is ultimately a domestic one, a reflection of Kate's life. It's also a little too easily resolved.
---
Stephanie Cross, The Daily Mail
"'We see what we want to see' is the moral of Sittenfeld's story, and while it gets a little bogged down mid-way, her gripping denouement is expertly carried out."
---
Helen Rumbelow, The Times
"A bit of a mess. The plot is the main problem. The twins' psychic powers are never fully articulated, vague even to themselves, and this carries over to the confused way that this device is treated. At one late stage the book starts to tease us as to whether their premonitions are true or imagined, but then gives that idea up, unresolved."
---
Buy the book
Amazon | Foyles | Hive | Waterstones
[AMAZONPRODUCT=0385618492]