Author Pitch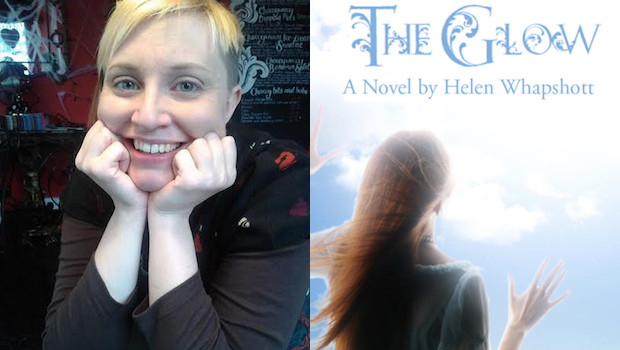 Published on April 15th, 2014
0
Author Pitch: The Glow by Helen Whapshott
Helen Whapshott first made her mark on literature with How the Kangaroo Got Its Hop, which she penned at the tender age of six. She hopes The Glow — her novel about a girl coming to terms with her ability to see spirits — will be enjoyed by both adults and younger readers, like The Graveyard Book by literary inspiration Neil Gaiman.
Tell us a bit about yourself:
I was born in May 1980 in Aldershot. I've worked as a nursery nurse, a special needs teaching assistant, a support worker for people with special needs and a care assistant in a nursing home. I also worked at a local hospital for eight years and at a children's hospice in Surrey. I've five wonderful nephews, a lovely niece, two very understanding parents and extremely patient brother and sister. I've always enjoyed listening to stories growing up. My mum used to read Hans Christian Anderson and Roald Dahl to me at bedtime. With a love of reading came a love of creative writing. My first hit was How The Kangaroo Got Its Hop at infant school when I was six, but I missed out on seeing my classmates' enjoyment because I was off several weeks with the mumps; when I got back the hype had died down. A disappointment I've never really got over! Being able to share my creations this time is a dream come true.
Who are your favourite authors?
I'm a big fan of Arthur Conan Doyle's Sherlock Holmes stories. As for modern authors, I love Neil Gaiman and Ben Aaronovitch. It was reading these guys that inspired me to give my own ideas a go.
What book are you reading at the moment?
Rosemary's Baby by Ira Levin. It's set in a New York apartment which makes it even creepier because the surroundings are so normal.
What made you sit down to write The Glow?
Writing helps me unwind after a long day – it's a brilliant means of escapism. I've always had an interest in the paranormal, and the idea just popped into my head one day while talking to a friend about Ghost Whisperer, an American TV series about a lady who helps ghosts. I thought it was a shame there wasn't a similar programme aimed at children.
Tell us a bit about the plot:
Thirteen-year-old Megan Webb discovers she has been gifted with 'The Glow'. Like a candle in a dimly lit room drawing moths towards it, Megan attracts ghosts, spirits, and others who belong to the supernatural and paranormal world. If this wasn't enough to deal with during the delicate years between childhood and adolescence, her parents suddenly decide to move her away from everything and everyone she knows to live in a spooky hotel inherited by a late aunt. But it isn't just the hotel that's creepy, the whole town seems a little odd until she makes friends with a strange boy, a witch, and a chain-smoking spirit guide who all help her adjust.
Did you do much research into the paranormal before writing The Glow? Have you ever seen a ghost?
I grew up in a Spiritualist/Pagan household so a lot of the ideas about ghosts and spirits came from there. Being interested from a young age in the paranormal I read a lot of books and browsed the internet before I even considered writing the book. All the information has merged together — I can't remember where or when I've read it, or whether it's correct for that matter, so apologies to any werewolves or witches who read it! I've seen ghosts.
Imagine your ideal reader: which authors do they enjoy?
I think my ideal reader would have a wide range of interests ranging from the classics such as Jane Austen and Daphne Du Maurier, to Neil Gaiman and India Knight.
You describe The Glow as 'cross-over fiction', meaning it can be enjoyed by young people and adults alike. What are your favourite works of cross-over fiction?
I enjoyed The Graveyard Book and Coraline by Neil Gaiman, The Boy in the Striped Pyjamas by John Boyne. And Michael Morpurgo's War Horse.
What made you choose your publishers, Little Bird Publishers?
Little Bird specialises in young and new adult fiction, horror, fantasy, and traditional romance, and works with indie authors and previously published authors who want to take more control over their writing, and provides a wide range of support from full publishing, to editing, artwork and social media networking.
If you had to sum up your book in a Hollywood pitch (eg Harry Potter meets the Hunger Games, or Charles Dickens meets Emily Bronte), how would you describe it?
Ghost Whisperer meets Being Human.
Read the first two chapters of The Glow on Helen's blog
Buy The Glow (ebook and paperback)
The Omnivore helps readers discover the best indie authors. If you would like to be featured on Author Pitch email authorpitch@theomnivore.com