History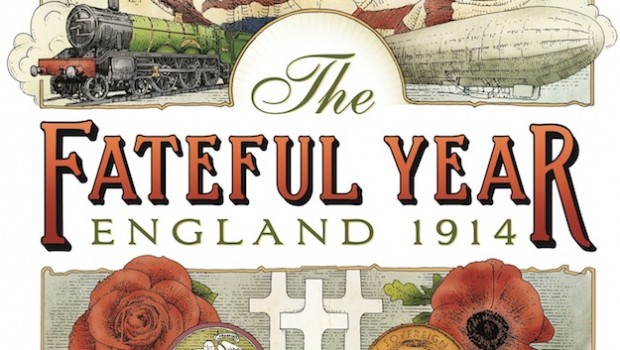 Published on January 11th, 2014
0
The Fateful Year: England 1914 by Mark Bostridge
| Press reviews | Buy the book | Have your say |
Blurb: The Fateful Year by Mark Bostridge is the story of England in 1914. War with Germany, so often imagined and predicted, finally broke out when people were least prepared for it.
Read more
Here, among a crowded cast of unforgettable characters, are suffragettes, armed with axes, destroying works of art, schoolchildren going on strike in support of their teachers, and celebrity aviators thrilling spectators by looping the loop. A theatrical diva prepares to shock her audience, while an English poet in the making sets out on a midsummer railway journey that will result in the creation of a poem that remains loved and widely known to this day.
With the coming of war, England is beset by rumour and foreboding. There is hysteria about German spies, fears of invasion, while patriotic women hand out white feathers to men who have failed to rush to their country's defence. In the book's final pages, a bomb falls from the air onto British soil for the first time, and people live in expectation of air raids.
As 1914 fades out, England is preparing itself for the prospect of a war of long duration.
Mark Bostridge won the Gladstone Memorial Prize at Oxford University. His first book Vera Brittain: A Life was shortlisted for the Whitbread Biography Prize, the NCR NonFiction Award, and the Fawcett Prize. His books also include the bestselling Letters from a Lost Generation; Lives for Sale, a collection of biographers' tales; Because You Died, a selection of Vera Brittain's First World War poetry and prose; and Florence Nightingale: The Woman and her Legend, which was named as a Wall Street Journal Best Book of 2008 and awarded the Elizabeth Longford Prize for Historical Biography. He is currently consultant on the forthcoming feature film of Vera Brittain's Testament of Youth.
(Viking 2014)
Lucy Lethbridge, Financial Times
"The co-author of a biography of Vera Brittain, Bostridge is particularly good on the militant suffragettes … Bostridge has written a truly gripping chronicle of the mood of a nation moving unwittingly towards catastrophe. The shifting tempo of a book like this is difficult to pull off but Bostridge moves deftly between public event and vivid personal experience with sympathy and imagination."
Anthony Quinn, The Guardian
"As hopes of peace are extinguished, something is lost in the book, too. The ironic undertow disappears, and the narrative momentum rather stalls … There's no doubting this book's eye for a good story, or the skill in telling it. I'm not sure there's a unifying idea to chew on, though, other than Asquith's favourite axiom: "the Expected does not Happen". And that is merely the verbal equivalent of a shrug."
---
Frances Wilson, London Evening Standard 
"While some of the stories told here, like that of the murdered body of a small boy found on a train leaving Chalk Farm station, are of previously unrecorded lives, others describe the lives of those, like the politicians who led us into war, who stood centre-stage. Bostridge clicks the camera shutter down on the sights, smells and sounds of the last scenes of peace and the first acts of battle, creating a masterly snapshot of the nervous moment before the world went mad."
Rachel Cooke, The Observer 
"…for all its many pleasures, for all its wonderful stories, The Fateful Year is sometimes desultory. It left me with the uneasy feeling that its primary engine was a desire to honour an important anniversary rather than the careful unpicking of a knotty new idea."
---
Dominic Sandbrook, The Sunday Times 
"Anybody writing about 1914 faces the insuperable obstacle of sheer overfamiliarity … Bostridge's explanation of the causes of the war (a German plot to take over the world) is barely up to A-level standard, and when he tells us that "a spirit of belligerency stalked the land", you feel like skipping straight to the end. That would be a shame, though, because his book is full of unexpected fascinations, especially when he steers clear of the war and delves into the more obscure corners of Edwardian life."
Read full review (£)
---
Buy the book
Amazon | Foyles | Hive | Waterstones