Omnivore Pin-up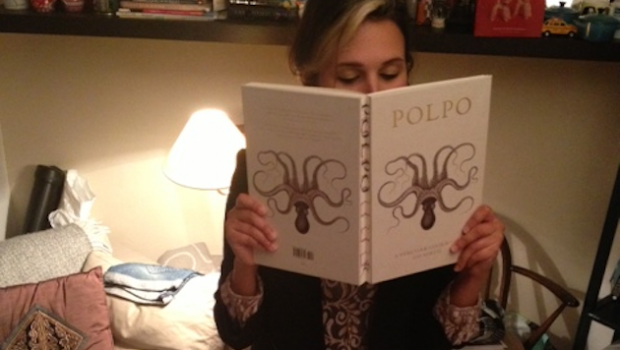 Published on August 5th, 2013
0
Omnivore Pin-up: Natasha, 26, Brixton
Foodie, reader, traveller and general bonne viveuse, Natasha is twenty-six and works in publishing. If you want to take her out for a raw steak, Patti Smith-style, email in to love@theomnivore.com quoting Box 3701.
What are you reading at the moment?
My floor is covered in flying papers from printed out manuscripts. So I generally pick up and read a page at random. It keeps me on my toes.
What have you just finished reading?
Patti Smith's memoir Just Kids, which is one of the most beautiful and moving books I've read over the past few years. One moment I was on a solitary sun lounger and the next I was in an artistically charged New York of the sixties and seventies, surrounded by amazing creative spirits. Landing back in reality I wished I could be a bit more bohemian. I'm planning on going on a Patti Smith pilgrimage soon. That woman is just plain cool. She once stole a piece of raw steak and hid it in the pocket of her huge overcoat.  I was also completely overwhelmed by the powerful connection between soul mates Patti Smith and Robert Mapplethorpe. Call me if you think you might be into recreating that.
What will you read next?
I'm told that John Berendt's narrative non fiction Midnight in the Garden of Good and Evil will be totally up my street. It centres on a true-crime murder mystery in Savannah, Georgia, but it's apparently more about the intoxicating, Gothic atmosphere and the weird residents of the town. I'll also dip into The Last Days of Detroit. I'm visiting America for the first time soon, so any US-set recommendations are welcome.
Which author do you have a crush on?
Julio Cortázar – for one thing, he can rock a smouldering uni-brow. And that perpetual cigarette hanging out of his mouth… Joan Didion is up there too. She exudes effortless old literary glamour. Fierce.
What's the sexiest thing you've ever read?
I'm a closet prude when it comes to written sex. It's all about the atmosphere, so Marquez is my go-to for a heady hit. I also dig the tension of forbidden love, take Wuthering Heights. That shit is real. Oh and Pablo Neruda knows how to spin a sensual sonnet. And I also have a weird predilection for protagonists whom you know you shouldn't really be into. I have a dirty-little-secret crush on Nick Guest in Alan Hollinghurst's The Line of Beauty, or any Murakami character. Male or female. If for some strange reason you decide you like my profile and we take this up to the first date level, expect to see me in a red hat channelling Malta Kano from The Wind-Up Bird Chronicle.
Which book would you give someone you're trying to impress?
I used to foolishly give people impenetrable works of meta and experimental fiction until I realised no-one was actually reading that stuff. And that I actually hated it. So I usually give novels that will make people laugh or cry. Over the past year or so I've been reading more and more non fiction, so I'm working on passing the baton on – Jeanette Winterson's Why Be Happy When You Could Be Normal? and Stephen Grosz's The Examined Life always go down well. I might be going for the completely wrong approach though. I should probably start giving The Story of O saying I think it's child's play.