Omnivore Pin-up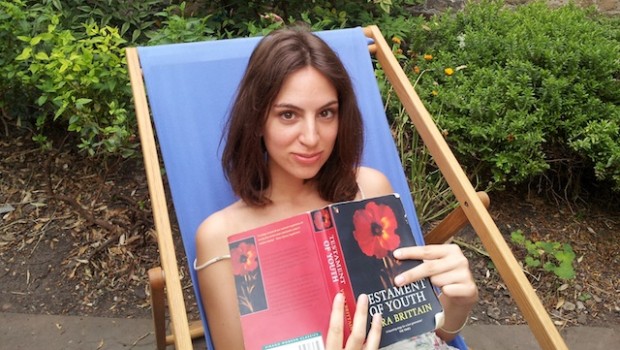 Published on July 25th, 2013
0
Omnivore Pin-up: Natasha, 25, Whitechapel
Kelly Brook lookalike, Natasha, is a (nearly) 25 year-old librarian from Whitechapel with a penchant for older Hungarian men. Check her out on a date, but remember to bring her back on time! Box no. 2507 love@theomnivore.com
What are you reading?
Testament of Youth by Vera Brittain. It's taking a while because I put it down every time there's a sad bit, which is all the time.
What have you just finished reading?
Graham Greene, The End of the Affair.
What will you read next?
Something uplifting. Testament of Youth is brilliant but so depressing.
Which author do you have a crush on?
Stephen Vizinczey. My signed copy of In Praise of Older Women is one of my most treasured possessions. I think I'm a bit young for him though.
What's the sexiest thing you've ever read?
A State of Heat by Sheilah Graham [F Scott Fitzgerald's girlfriend]: "a delightfully scandalous memoir of Sex, Money and Life at the Top". I borrowed a copy off my grandma. It's got some great advice on Frenchmen "I have never wanted to marry or even have an affair with any one of them… they seem evil and degenerate, and I would not dare." And an intriguing chapter on "The Gay People": "I have never wanted an affair with a lesbian. I have always loved men. There was never room for a woman, although there almost was one time with a close friend, Edith."
Which book would you give someone you're trying to impress?
The Meaning of Liff.