Omnivore Pin-up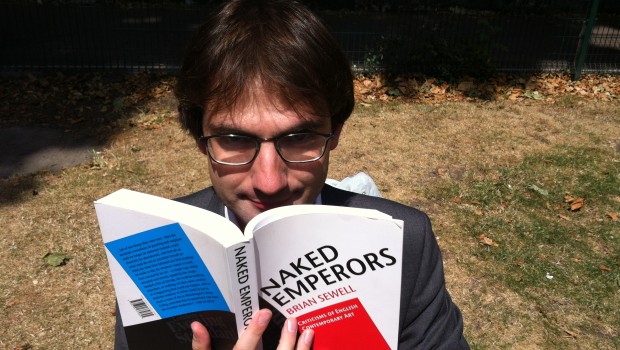 Published on August 23rd, 2013
Omnivore Pin-up: Josh, 30, Pimlico
Spoken word poet and leather jacketed-hack Josh, 30 and living in Pimlico, shares his rather considerable reading habits with us. If you'd like to get into Josh's little black book, email love@theomnivore.com quoting Box 4037.
What are you reading at the moment?
Do only books you've finished count like at school? Then I'm in trouble – I didn't finish Saturday Night and Sunday Morning last autumn and I was rather enjoying that, a not unsexy book. I read bits of Jules Verne's From the Earth to the Moon… And a Around the Moon which would be brilliant to adapt for a disabled theatre company, and my Polish flatmate gave me Ryszard Kapuściński's The Emperor about Haile Selassie which is good if a bit static.
What have you just finished reading?
J. M. Roberts's The New Penguin History of the World though it's mainly been sitting by me at work as a cheering presence and cultural totem. As is the Oxford Companion to Modern Poetry, which is like the Drabble literature guide to lots of poets you've never heard of. I've been reading lots of Time Out's 2013 London Eating and Drinking Guide and The London Loop, a guide to a circular walk around the capital, both brilliant loo books/wiped out at 3am-reading.
What will you read next?
Dan Metcalfe's Blue Dahlia, Black Gold: A Journey into Angola. Also I want to read The Operators: The Wild and Terrifying Inside Story of America's War in Afghanistan by 33 year old Rolling Stone journalist Michael Hastings who died this month in a car crash.*
[Josh then frantically emails us to ask whether it has this gone out yet. Apparently he did this ages ago; he hasn't bought the Hastings book and he is on a train and about to read Wolf Hall! -Ed.]
Which author do you have a crush on?
For their person or their penmanship or both? Definitely Rosemary Hill. Jane Bussmann. Miranda July (pretty cringey that). Dorothy Parker in the Algonquin cartoon. Rachel Holmes. Plus Salena Godden, Jay Bernard, Kate Kilalea, Lauren Elkin – all fantastic writers and performers. Man crush on Louis MacNeice, DH Lawrence (for the animal poems), massively on Orwell, Gissing and Charles Lamb (empathy), Thackeray. Is it incredibly sexist that I chose alive female writers and dead male ones?
What's the sexiest thing you've ever read?
My Google profile is burning with shame at my delight in Susan G Frayser and Thomas J Whitby's whopping bibliography Studies in Human Sexuality "for professionals, scholars, students, and laypeople". "Over coffee [at Denver University's Graduate School of Librarianship and Information Management] we discovered our mutual interest in sex…" writes our gentle hero in the preface, before embarking on a coy odyssey through literature on every possible sexual proclivity, orientation and combination – including yet more bibliographies. But this is more tantric than climactic. I read something wonderful about bonobos and chimpanzees recently, but not a book, but enough to know I must look on in envy at bonobos as someone else's favourite omnivore. A better answer is to accept that alphabetic orgasm is as illusory/rare as the zipless fuck, and that the sexiest things I've read are books like Neil Ardley and David Macaulay's The Way Things Work, the 1994 Dorling Kindersley World Reference Atlas, the brilliant Maze book where the secret was getting to page 17 and all those many series and families of childhood books down the vista of years when books were thrilling and I ate them up.
Which book would you give someone you're trying to impress?
If I were to say the book in John Updike's Bech series – I think it's the original Bech: A Book – in which a couple supposedly based on my parents feature as a cameo and a baby crying in the background prefigures my existence, that would bring home the infinitesimal impact I've had on the world of books ever since. Really – my contacts book, hand-copied in Bic, kissed by the rain.