Omnivore Pin-up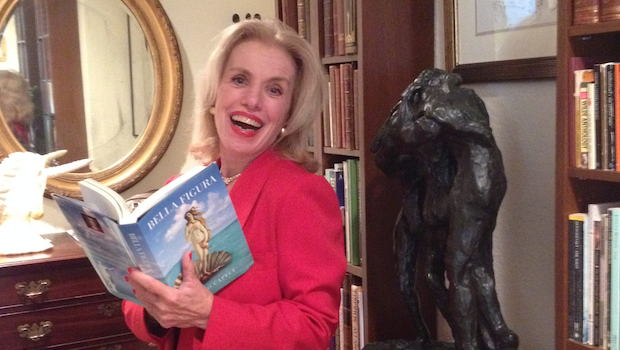 Published on July 24th, 2014
0
Omnivore Pin-up: Jojo, Forever 50, San Francisco
This week's literary vixen is Jojo Capece, sculptor, artist and author who's lived on three continents and has a passion for great art, music, and keen minds of wit and imagination. She's pictured with her novel Bella Figura. If you'd like to ask her out to the opera or a dynamite dinner, email love@theomnivore.com quoting Box no. 8902.
What are you reading at the moment?
I make it a practice to read two books simultaneously. As the trilogy of my books set in Italy will be complete this Christmas with Portofino Souvenir,  I'm re-reading Boccaccio's Decameron and The Leopard by Tomasi, Prince of Lampedusa. To my mind, this book is perfect for its literary style and brevity.
What have you just finished reading?
The Disinherited: A Story of Love, Family and Betrayal by Robert Sackville-West and Price of Fame about Claire Booth Luce, a guest in my Washington D.C. house  many years ago, a woman  betrayed with a will of iron.
What will you read next?
My dream plan is to read Bel Ami in French by Maupassant because he was inspired to write this timeless tale in Portofino.
Which author do you have a crush on?
This is a foxy question – do you mean the ones I've met, the ones that have given me great love stories or the ones in my fantasy?
What's the sexiest thing you've ever read?
Apollinaire's "les onze mille verges " –   beats Anaïs Nin and Marquis de Sade.
Which book would you give someone you're trying to impress?
Depends on the recipient…for a new lover, The Prophet by Gibran because of his tender writing, for someone depressed, The Consolation of Philosophy by Boethius, Wilkie Collins' The Moonstone for an aspiring writer, The Alexandria Quartette by Durrell, the list is endless – and I didn't mention my dear Balzac.
The Omnivore wants to fulfil your bodily needs as well as your intellectual ones. To share your literary passions with other Omnivores or to date one of our pin-ups, please get in touch at love@theomnivore.com.