Omnivore Pin-up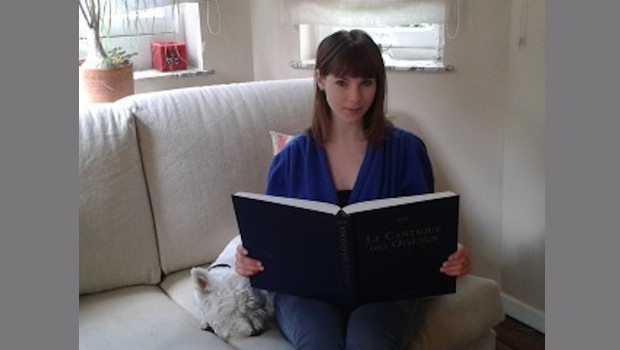 Published on May 1st, 2014
0
Omnivore Pin-up: Astrid, 24, Notting Hill
Belgian babe, Astrid, is twenty-four and works in publishing. She tells us about the last book she read (Pow! by Mo Yan, the tale of a "carnivorous genius") and about all the books she'll never read but knows she should. If you're feeling gluttonous for a pound of Astrid, please get in touch via love@theomnivore.com quoting Box no. 7809.
What are you reading at the moment?
All Fires the Fire by Julio Cortazar. A collection of stories that will make you think about what could happen at a red light.
What have you just finished reading?
Pow! by Mo Yan, an erotic, absurdist romp through the life story of Xiaotong, a boy obsessed with meat. Described as a "carnivorous genius" and "the world's most gluttonous boy."
The story (confessed by Xiaotong to a silent old monk who communicates by twitching the hairs in his ears) recounts his own rise to fame as a legendary meat-eater and womaniser. It also tells the tale of his village: home to the first industrial-scale meat factory in China.
Definitely disturbing and not suitable for everyone but still quite enjoyable for a novel about meat.
What will you read next?
Every time I close a book I think about starting The Infinite Jest by David Foster Wallace, Gravity's Rainbow by Thomas Pynchon or even Ulysses by James Joyce.
But the truth is that I recently received The Screwtape Letters by by C. S. Lewis and the plot makes it sound very tempting.
Which author do you have a crush on?
If I could go back in time, it would be William Burroughs or Martin Amis. Of course, if I can do that I would also like to look like Brigitte Bardot when I meet them.
What's the sexiest thing you've ever read?
Off the top of my head, Balzac and the Little Chinese Seamstress by Dai Sijie. If you have read it, you know which chapter I am talking about.
Which book would you give someone you're trying to impress?
Probably Toilers of the Sea by Victor Hugo or As I lay Dying by William Faulkner.
The Omnivore wants to fulfil your bodily needs as well as your intellectual ones. To share your literary passions with other Omnivores or to date one of our pin-ups, please get in touch at love@theomnivore.com.