Author Pitch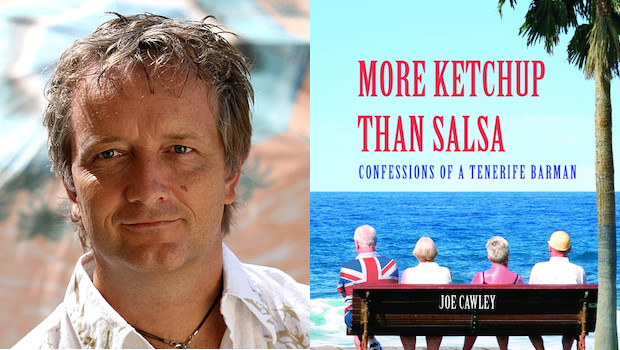 Published on September 10th, 2013
0
Author Pitch: More Ketchup than Salsa by Joe Cawley
When Joe Cawley decided to swap the wet, cold surroundings of Bolton fishmarket for the sun, sea and siestas of Tenerife, nothing could have prepared him for what was to come. More Ketchup than Salsa: Confessions of a Tenerife Barman is a funny, frank account of how he coped with a range of sub-tropical challenges, from British ex-pats to a psychotic cat. Originally published in 2006, Joe re-acquired the rights and uploaded the book to Amazon, where it has already been downloaded 60,000 times.
Tell us a bit about yourself:
As well as an author, I'm also a travel writer, having been published in many national and international publications including The Sunday Times, The Telegraph, The New York Post and The Taipei Times. I live in the hills of Tenerife with my family and an assortment of other wildlife, though regularly visit the UK to keep my 105-year-old Nan out of trouble on her Friday nights out with the girls. When not chaperoning my Nan, I can be found in my writing shed penning the sequel to More Ketchup than Salsa.
What's your book about?
More Ketchup than Salsa: Confessions of a Tenerife Barman is a true tale about swapping a career in fish giblets on a cold Lancashire market for life as a British bar and restaurant owner abroad. Despite a complete lack of catering experience, zero business acumen and the sum of my vastly wealth barely reaching waist level on a ceramic pig, I jumped at the chance to swap grey skies for blue. My partner and I anticipated a life of sea, sand and siestas but the foreign fantasy turned out to be as exotic as Bolton on a wet Monday morning.
Tell us more about the main character:
Erm… that'll be me then. Tall, dark, handsome… and with a tendency for delusion regarding self image.
Where did you get the idea for your book?
It's a true account of my foolish notion that the grass would be greener anywhere that wasn't Bolton fish market. Actually, it was greener… it just concealed an assortment of sub-tropical dangers, mainly in the form of British ex-pats and a psychotic cat called Buster.
Why did you decide to self-publish?
The book was first published by Summersdale in 2006. I re-acquired the rights in 2010, just as the Kindle market was starting to emerge. It's been downloaded over 60,000 times since I self-published on Amazon. I enjoy having complete control of creativity, marketing and what, when and how I publish my other writing. Formatting for Kindle is a beggar though, and gives me as much pleasure as bobbing for apples in a vat of acid.
Imagine your ideal reader: which authors do they enjoy?
They'd probably enjoy the likes of Bill Bryson, Karl Pilkington, Chris Stewart, Ben Hatch, Tony James Slater, George Mahood and a variety of other rib-tickling scribblers.
If you had to sum up your book in a "Hollywood pitch", how would you describe it?
Shirley Valentine meets Little Britain.
Buy More Ketchup than Salsa by Joe Cawley
Visit Joe's website
Follow Joe on Twitter
The Omnivore helps readers discover the best indie authors. If you would like to be featured on Author Pitch email authorpitch@theomnivore.com