Author Pitch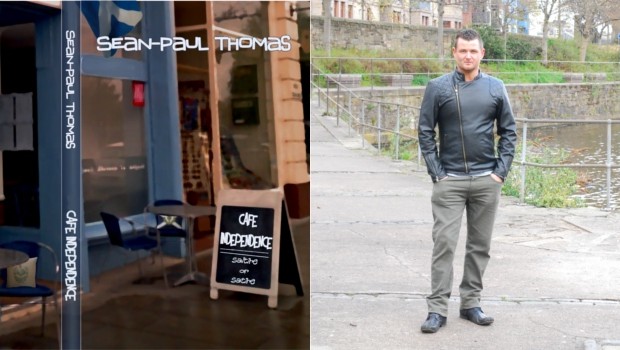 Published on June 29th, 2014
0
Author Pitch: Cafe Independence by Seanpaul Thomas
As the Scottish Independence Referendum draws near, Seanpaul Thomas takes us into the hearts and minds of ordinary  men and women in Edinburgh in his novel Cafe Independence. It's a far cry from the 'oh yahing this and oh yahing that' of Westminster politics.
Tell us a bit about yourself:
I'm a relatively new author who has only been writing books for a few years. Although I did spend a lot of my teens writing plays and screenplays so I'm no stranger to the craft either. I'm quite the introvert, compared to my outgoing self from a few years ago. I love my own company and travel a lot by myself too.
Who are your favourite authors?
I'd say, Charles Bukowski, John Fante, Irvine Welsh, Knut Hamsun. My new book Cafe Independence is definitely influenced by Irvine Welsh. And I loved the challenge immensely of writing fifty percent of the novel in that tough, witty, Scots dialect.
What book are you reading at the moment?
The Gentleman Tramp by Toby Glover. It's a very good read about finding yourself while travelling the world in search of adventure and romance.
What made you sit down to write Café Independence?
I was having a coffee with a friend last year in a quiet Edinburgh cafe when I overheard a couple of teenage 'Neds' (Scotch slang for Non Educated Delinquents') talking about what an independent Scotland would be like. I nearly spat my coffee over my mate's iPhone. I couldn't tell if they were serious or joking around. Especially when they insisted upon the rebuilding of Hadrian's Wall and changing all the English road signs back to Scottish Gaelic just to confuse the hell out of all the English tourists. I then began interviewing friends and talking to various different acquaintances to get their own opinions on independence before blending those ideas into the minds of my characters.
Tell us a bit about the novel:
It's a pretty simple set-up: a day in the life of an Edinburgh city centre cafe on voting day. We learn about the personal life of the new chef Richard and get to know the feisty and strongly opinionated waitress Toni. We also get to hear about the many gripes, groans, trials and crazy tribulations and banter from the various weird and wacky customers who frequent the old bruised, battered and run-down cafe.
You live in Edinburgh yourself. Is Café Independence based on a real cafe? And are any of the characters based on real people?
It's not based on any particular cafe. But I imagine it situated a few doors down from the famous and tourist-heaving Elephant House Cafe (the birthplace of Harry Potter). My cafe is the one that is always empty or speckled with downbeat locals while the tourist herd rush past in order to queue for an hour in the cold rain to get served in the Harry Potter one. And yes, the characters are based on people I know or have met throughout my time in Edinburgh, although they are exaggerated. Even Brian, the sexist and sadistic womanising head chef, well, I've met him in person.
What made you choose your publishers, New Dawn Publishers?
They seemed very friendly and enthusiastic about the project when I approached them at the beginning of the year. In fact they were just as excited as me to start working on it.
Imagine your ideal reader: which authors do they enjoy?
For Cafe Independence, I've targeted the Irvine Welsh audience, especially with the chat, banter and humorous shenanigans. But the novel is kind of 50/50 with the Scots/English dialect.  Anyone who enjoys a good tongue-in-cheek, black comedy satire, with a bit of sex and violence thrown in for good measure, should really get a kick out of this.
If you had to sum up your book in a Hollywood pitch (eg Harry Potter meets the Hunger Games, or Charles Dickens meets Emily Bronte), how would you describe it?
Offft. I'd say, probably… Trainspotting meets Kevin Smith's fabulous low budget comedy 'Clerks' meets Tarantino's Reservoir Dogs.
Finally, what's your prediction for 18 September?
I think it will be very close but I'm sure the 'Yes' vote will edge it in the end

A lot of people in Scotland – and the rest of the UK too, I reckon – are fed up of overly privileged and educated backbencher politicians. They want change since most politicians these days who lounge around Westminster 'oh yahing this and oh yahing that' are neither relatable nor recognizable. They are completely out of touch with the common, working class person's way of life. And common working people dominate the population of this island.
I think the working class and poorer people of Scotland see this as their chance to shake things up a bit. And as Boris Johnson would probably say – 'Give these bloody bigwigs in charge of the country a bloody good fright' when we vote yes. And I always wondered if even half of these MP's could locate Scotland on a world map. They probably all think Glasgow is just another tube stop on the Northern line on the way to Edgware.
Buy Cafe Independence on Amazon
Read about Cafe Independence on Goodreads
Find Seanpaul Thomas on Facebook
The Omnivore helps readers discover the best indie authors. If you would like to be featured on Author Pitch email authorpitch@theomnivore.com