Non-fiction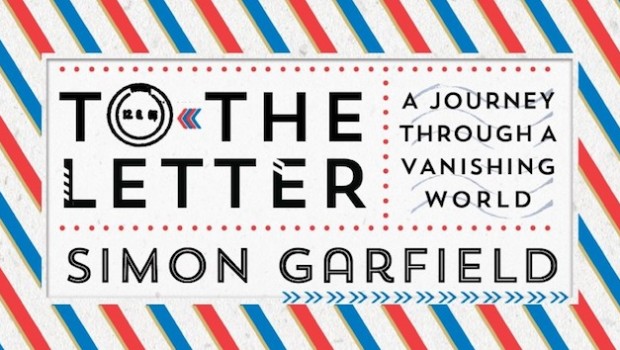 Published on November 7th, 2013
0
To the Letter: A Journey Through a Vanishing World by Simon Garfield
| Press reviews | Buy the book | Have your say |
Blurb: To the Letter tells the story of our remarkable journey through the mail. From Roman wood chips discovered near Hadrian's Wall to the wonders and terrors of email, Simon Garfield explores how we have written to each other over the centuries and what our letters reveal about our lives.
Read more
Along the way he delves into the great correspondences of our time, from Cicero and Petrarch to Jane Austen and Ted Hughes (and John Keats, Virginia Woolf, Jack Kerouac, Anaïs Nin and Charles Schulz), and traces the very particular advice offered by bestselling letter-writing manuals. He uncovers a host of engaging stories, including the tricky history of the opening greeting, the ideal ingredients for invisible ink, and the sad saga of the dead letter office. As the book unfolds, so does the story of a moving wartime correspondence that shows how letters can change the course of life.
To the Letter is a wonderful celebration of letters in every form, and a passionate rallying cry to keep writing.
(Canongate, 2013)
Simon Garfield: In praise of the letter | The Guardian
John Carey, The Sunday Times 
"Garfield is eclectic, and everyone will find gaps in his coverage. Why no Dickens, Waugh, Larkin? His account of Seneca's letters is inadequate. No one would guess from this that Montaigne and Shakespeare quarried Seneca for ideas. But in the things that matter most, his book is a shining success. His final emphasis is on a letter's physical reality — a thing touched and kissed that a loved one has touched and kissed. "This is not a letter but my arms around you for a brief moment," wrote Katherine Mansfield. No email will ever be able to say that."
---
Andrew Hill, Financial Times 
"…this is more a celebration of the form than an obituary. The letters themselves provide the music for the celebration… Garfield intersperses exchanges between famous correspondents – Abelard and Héloïse, Henry VIII and Anne Boleyn, Ted Hughes and Sylvia Plath – with an immensely affecting set of letters from signalman Chris Barker, one-time post office messenger, to Bessie Moore in the closing years of the second world war, as their love grows despite, or possibly because of, the distance between them. These letters demonstrate, perhaps better than the more famous correspondence, what will have been lost when the last letter is posted."
---
Peter Conrad, 
The Guardian 
"Garfield's book dodges between sociology, political history and literary criticism, and is over-extended by anecdotal detours about the cost of paper, the trade in manuscripts, and his current home in a former post office garage. Some of the trivia, I admit, is fascinating: along with SWALK, Garfield disinters other examples of the acronyms used on envelopes by randy soldiers, including NORWICH, which stood for Nickers Off Ready When I Come Home, and EGYPT, which semaphored Eager to Grab Your Pretty Tits."
---
David Robinson, The Scotsman 
"Garfield is a knowledgeable guide to his subject. He trots effortlessly through a somewhat predictable list of exemplars such as Mme de Sévigné and Lord Chesterfield, various guides to letter-writing, and then email etiquette, and gives a succinct overview of the development of Rowland Hill's postal revolution … Yet somehow his book fails to engage at any deeper level than a competently executed commission."
---
Buy the book
Amazon | Foyles | Hive | Waterstones