Omnivore Pin-up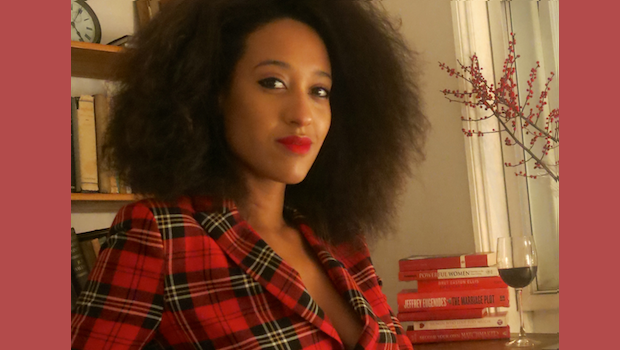 Published on January 12th, 2014
0
Omnivore Pin-up: Nana, 27, East London
As the brains – and body – behind Social Concierge, a London dating service, Nana is more used to pimping out others than herself. But the lure of the Omnivore Pin-up Hall of Fame proved too much for this Donna Tartt-loving, Story of O-reading girl-about-town. To ask Nana on a date, or get her to organise one for you, email in to love@theomnivore.com quoting Box 6214.
What are you reading at the moment?
 I usually have three or four on the go, partly because I like to indulge moods and partly because I misplace them frequently or drop them in the bath. At the moment it's Ngozi Adichie's Americanah (which is fantastic), Donna Tarrt's The Little Friend (I bloody love her) and Bret Easton Ellis' American Psycho (a book I return to when too tired to focus).
What have you just finished reading?
A.M. Holmes' May We Be Forgiven. I really enjoyed Holmes' This Book Will Save Your Life, and this one even more so. I love books that use dark humour in domestic settings, and when writers use mundane happenings to set into motion nuts storylines. Absurdities aside, it was a fairly life-affirming read. 
What will you read next?
I've got a copy of David Foster Wallace stories that I'm yet to pick up and a Patrick McCabe book called The Dead School that I bought over a year ago. I also must make time to finish Do It or Ditch It and Why Men Love Bitches, both work-related. Self help manuals are a secret pleasure, but I turn their spines to the wall.  
Which author do you have a crush on?
Um, Ethan Hawke? He's heaven on screen but also wrote a novel called Ash Wednesday that was was great at capturing the voice/ego of the modern American male – poignant in parts and a speed read.
Bret Easton I will adore forever, and Jens Lapidus I am yet to read but he is SMOKIN'. 
What's the sexiest thing you've ever read?
Years ago I was given The Story of O by a dark and romantic boyfriend. It's a French erotic novel from the fifties. He used to read it to me before we went to bed, so hot. The Monk is also good.
Which book would you give someone you're trying to impress? 
I used to find it impossible to have a lover leave my bed without giving them a book. Last year I asked Javiar Marias to sign a novel for a new boyfriend, in which he cringingly wrote in Spanish 'to my intense crush'. Cool as a cucumber. 
If I'm into someone, they will eventually need to have a well thumbed copy of The Secret History. 
The Omnivore wants to fulfil your bodily needs as well as your intellectual ones. To share your literary passions with other Omnivores or to date one of our pin-ups, please get in touch at love@theomnivore.com.