Omnivore Pin-up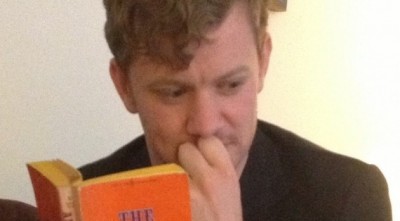 Published on July 5th, 2013
0
Omnivore Pin-up: Lawrence, 27, Richmond
Crumpet and keyboardist for indie band Citizens!, Lawrence, 27 from Richmond, tells us what he reads when on tour, why he'd forgo all the groupies in the world for Doris Lessing and how exactly he'd get a girl to call him back. Ask Lawrence out via love@theomnivore.com.
What are you reading at the moment?
I've just come back from the library today and I've got Washington Square by Henry James, Squirrel Seeks Chipmunk by David Sedaris and Telegraph Avenue by Michael Chabon. It will be my first foray into Henry James and David Sedaris. But for Mr Chabon I have already read and loved Cavalier & Clay and The Yiddish Policeman's Union.
What have you just finished reading?
Apart from a trilogy of detective novels by Philip Kerr, I just finished A Confederacy Of Dunces by John Kennedy Toole, which I enjoyed eventually, and The Book Of Daniel by E.L Doctorow. That was the one. An incredible novel which shook me to the core. Bloody brilliant it was.
What will you read next?
I've got designs on Saul Bellow as I've never read any of his work and someone suggested it might work as a counterpoint to The Book Of Daniel. Also The Art Of Fielding has been on my list for a while. I'm a sucker for "The Great American Novel" and sports books, so I'd imagine I'm going to enjoy it.
Which author do you have a crush on?
I must be honest I don't really have a crush on any author. Though I reckon Doris Lessing (who I believe is still alive?) would be an amazing person to spend time with. Her intellect seems coruscating, and she doesn't really seem part of any clique or genre. That is sexy in its own right. Though I'm worried my author crush is a 93 year old woman.
What's the sexiest thing you've ever read?
I think the scariest thing about Crash by J.G Ballard is that it genuinely is really fucking sexy. An uncomfortable read on a plane. The match report of the 1967 European Cup Final between Celtic and Inter Milan runs it a close second.
Which book would you give  someone you're trying to impress?
My last girlfriend got me Under The Net by Iris Murdoch and that was a great present. I love Iris to pieces and it's a very happy romantic read about young love and London. I was impressed! I'm always trying to spread the gospel of Robertson Davies, and The Salterton Trilogy is romantic and funny and I would like a girl that would like his work. But if I was really trying to impress, perhaps Love in the Time of Cholera. Tragic long deferred love, loyalty, sadness, death, and–quite literally–violins. The prose is also incredibly sexy and warm. I'd give them my copy with my phone number and a John Betjeman poem inscribed in the front cover and hope that they called me back.