Omnivore Pin-up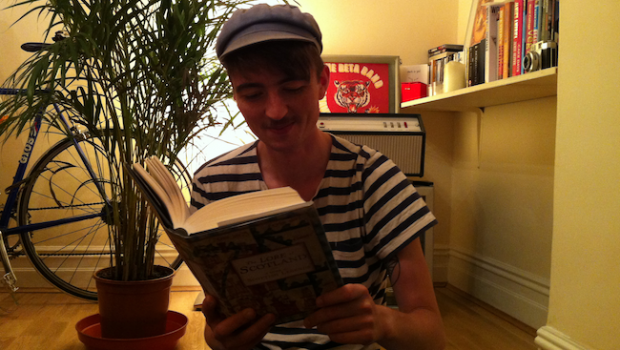 Published on August 28th, 2013
0
Omnivore Pin-up: Gordon, 30, Maida Vale
30-year-old Gordon, from Fife but now living in Maida Vale, has a wide-ranging reading list. He's sailing through Herman Hesse and is soon to embark on the diary of a sea-faring ancestor. If you'd fancy going out to sea with Gordon, please email into love@theomnivore.com quoting Box 4121.
What are you reading at the moment?
I seem to be ploughing through Siddhartha by Hermann Hesse at a rate of knots. Once I got past the rather off-putting introduction by Paulo Coelho, life seemed to get much easier.
What have you just finished reading?
Songs in the Key of Fife by Vic Galloway – easily in contention for the best musical tome of the year and/or decade. Any book about my fair Kingdom of Fife is a winner, but when you add the The Beta Band, James Yorkston and Lone Pigeon to the mix it's going to be spectacular…
What will you read next?
Have been gearing up to read The private journal of Captain G.F. Lyon of HMS 'Hecla' during the recent voyage of discovery under Captain Parry for a wee while now. Captain Lyon spoke fluent Arabic in North Africa and was tattooed by the Inuit in Hudson Bay. A bon viveur, naval captain and explorer, he is also a direct relation.
Which author do you have a crush on?
I briefly crossed paths with JK Rowling at the opening of The Wizarding World of Harry Potter at Universal Studios Orlando in 2010. Her choice of dress was highly inappropriate for the setting. Her 'devil may care' attitude was intriguing.
What's the sexiest thing you've ever read?
The Collector by John Fowles… help!
Which book would you give someone you're trying to impress?
The Source: The Untold Story of Father Yod, Ya Ho Wa 13, and The Source Family by Isis Aquarian. Anyone who fails to be impressed by the true story of a Californian rock and roll sex cult led by a god-man called Father Yod might just be missing the point of LIFE!