Biography & Memoir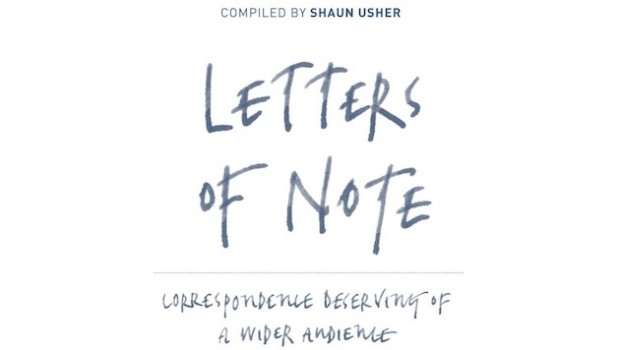 Published on November 7th, 2013
0
Letters of Note: Correspondence Deserving of a Wider Audience by Shaun Usher
| Press reviews | Buy the book | Have your say |
Blurb: Letters of Note is a collection of over one hundred of the world's most entertaining, inspiring and unusual letters, based on the seismically popular website of the same name — an online museum of correspondence visited by over 70 million people.
Read more
From Virginia Woolf's heart-breaking suicide letter, to Queen Elizabeth II's recipe for drop scones sent to President Eisenhower; from the first recorded use of the expression 'OMG' in a letter to Winston Churchill, to Gandhi's appeal for calm to Hitler; and from Iggy Pop's beautiful letter of advice to a troubled young fan, to Leonardo da Vinci's remarkable job application letter, Letters of Note is a celebration of the power of written correspondence which captures the humour, seriousness, sadness and brilliance that make up all of our lives.
Including letters from:
Zelda Fitzgerald, Iggy Pop, Fidel Castro, Leonardo da Vinci, Bill Hicks, Anaïs Nin, Fyodor Dostoevsky, Amelia Earhart, Charles Darwin, Roald Dahl, Albert Einstein, Elvis Presley, Dorothy Parker, John F. Kennedy, Groucho Marx, Charles Dickens, Katharine Hepburn, Kurt Vonnegut, Mick Jagger, Steve Martin, Emily Dickinson and many more.
(Canongate Unbound, 2013)
Letters of Note's most intriguing correspondence – interactive | The Guardian
Peter Conrad, The Observer
"The most extraordinary letters Usher reproduces are about impending death: Virginia Woolf's suicide note, a narrative of Aldous Huxley's last agonised days by his widow, a telegram from the sinking Titanic, and many others … Amused and amazed as I was by Usher's other choices, I kept returning to these small tragedies and the records they left behind. Letters of Note, I think, is a book about sadness. "
---
Andrew Hill, Financial Times
"…a  gloriously presented compilation… It includes Alabama attorney-general Bill Baxley's 1976 response, on official headed paper, to a white supremacist's threats ("Kiss my ass"), and Francis Crick's letter to his 12-year-old son Michael explaining, with illustrations, his joint discovery of the "very beautiful" structure of DNA."
---
David Robinson, The Scotsman 
"…the book contains over 100 letters in facsimile form along with their transcriptions, freeing him to indulge in the purely quirky or the compellingly fascinating… as a guide to letters that deserve a wider readership, Usher's compilation is hard to beat."
---
David Sexton, London Evening Standard 
"This year's Christmas gift? For sure. Yet it has also to be said that converting this online literary treat into such a traditional publishing format has stultified the letters a little, making them no longer so precious and surprising as they are when you come upon them one at a time in the midst of Twitter. A book, now? We've been here before. "
---
Buy the book
Amazon | Foyles | Hive | Waterstones