Omnivore Pin-up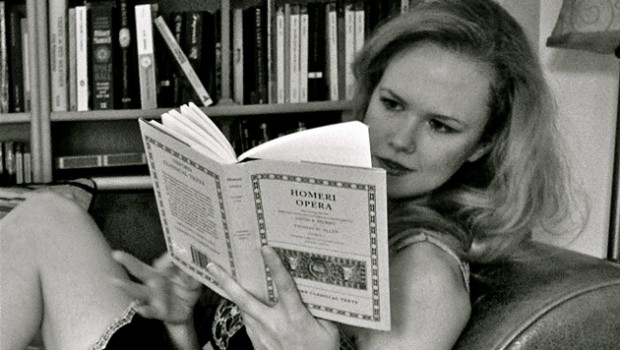 Published on July 22nd, 2013
0
Omnivore Pin-up: Dr Daisy, 26, Wimbledon
We're half crazy all for the love of Daisy, a 26-year-old writer and journalist from Wimbledon. Invite her to be your Guest Lecturer via love@theomnivore.com. Only platonic enquiries please.
What are you reading at the moment?
Pliny and the Artistic Culture of the Italian Renaissance by Sarah Blake McHam.
What have you just finished reading?
The Revised Fundamentals of Caregiving by Jonathan Evison. I was puzzled when I was given this, as I assumed it was a help book, but it turned out to be a brilliantly funny novel about a man and a boy and their travels around America.
What will you read next?
There is a book tower of Pisa growing next to my bed. On top of a lot of very dull nineteenth-century classical commentaries is Kiss Me, Chudleigh: The World According to Auberon Waugh. I love Waugh, but missed this collection when it came out a few years ago. Its author, William Cook, mailed it to me last week because obviously he thinks Waugh and I are in the same league…
Which author do you have a crush on?
Propertius. He's rather taken with a chick called Cynthia, but I'm hopeful of my chances.
What's the sexiest thing you've ever read?
How about the sexiest thing ever read to me? In my first year at university some girls bought me a copy of India Knight's The Dirty Bits for Girls – a collection of erotic excerpts from Keats, Anaïs Nin, D.H. Lawrence, John Cleland and others – and proceeded to give 'readings' from it at my birthday dinner. It must have been a brilliant year for India Knight, as every girl I knew soon had her own copy!
Which book would you give someone you're trying to impress?
You should never lend a book to anyone, not least a lover, as you will never get it back. If I could really bring myself to try to impress someone I would buy him Homer's Iliad in Greek – the great leveler.