Omnivore Pin-up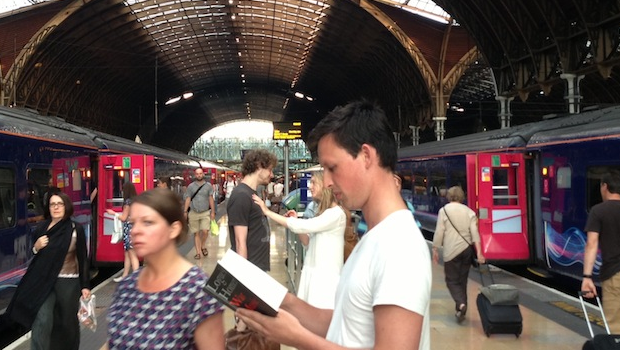 Published on August 22nd, 2013
0
Omnivore Pin-up: Alex, 27, East London
Strong yet sensitive Alex, 27, from east London, is a man of many talents. When he's not translating Stefan Zweig, he's keeping us up to date on Tamara Ecclestone's tan for the Daily Mail. Ask Alex out via love@theomnivore.com quoting Box no. 2613, and if you ask nicely, he might give you a private reading from his novella The Wellsprings of Desire.
What are you reading at the moment?
Orkney by Amy Sackville. The joys are the description of the island visited by a honeymooning couple and of the slender silver-haired young bride we come to suspect might be a selkie – a woman from the sea. Orkney is the first place I can ever remember visiting – I ate new potatoes with butter and crawled inside the Tomb of the Eagles. It resonates for me.
What have you just finished reading?
Stefan Zweig's autobiography, The World of Yesterday. He lived from 1881 to 1942, when he committed suicide with his wife in Brazil, the day after posting the manuscript to his publishers. He describes seeing Rodin at work as a young man, the Belgian Army transporting machine-guns on little trailers pulled by Alsatians, Bavarian farmers exploiting Austria's hyper-inflation by crossing the border to get drunk, and conjures up much more of those lost worlds than I ever managed in months of 'What were the Causes of the First World War?'
What will you read next?
I was going to revisit Rilke after reading Zweig's description of him. But Orkney intervened and convinced me that it's finally time to turn to George Mackay Brown, the Orcadian poet and novelist from whom the best lines in Sackville's book are taken:
'Oh, she'll be back. That dear one
is gold of our corn,
She's Orkney rain and spindrift…'
Which author do you have a crush on?
Are authors very attractive as people? I'm not so sure. There's probably a poetess or two in The Savage Detectives whom I wouldn't kick out of bed on a cold night.
What's the sexiest thing you've ever read?
Correspondence.
Which book would you give someone you're trying to impress?
Christopher Logue's translation/adaptation of the Iliad, War Music. It feels like a gift from the cosmos, the result of some miraculous alignment of planets. I often re-read the death of Sarpedon to give myself some strength. At the very least, it would get their blood up.