Hatchet Job 2014 | Previous years | Manifesto | Press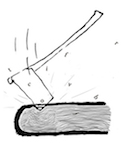 MANIFESTO
Newspaper book pages are on borrowed time. Readership is dwindling, review space is shrinking, reviewers are paid half what they were twenty years ago. The professional critic has yet to draw his last breath, but there's no mistaking the death rattle.
The chief cause of this sorry situation is, of course, the decline in newspaper readership. But plummeting circulation just makes it even more urgent for literary pages to prove they're still relevant.
We need professional book reviewers. We need people who know what they're talking about, whose voices we recognise and trust, even though we might not always agree with them. With more books being published than ever, you could argue that the hunger for authoritative advice has never been greater.
Editors have a duty to feed this hunger. This means asking why many people who like books think the book pages aren't for them. It means challenging notions that professional criticism is inward-looking and self-serving. It means making sure book reviews are not simply informative, but entertaining.
Hatchet Job of the Year is a crusade against dullness, deference and lazy thinking. It rewards critics who have the courage to overturn received opinion, and who do so with style. Most of all, it is a public celebration of that most underpaid and undervalued form of journalism: the book review.
For all enquiries, including sponsorship, please get in touch at hatchetjob@theomnivore.com