Hatchet Job 2014 | Previous years | Manifesto | Press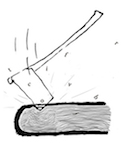 SPONSORSHIP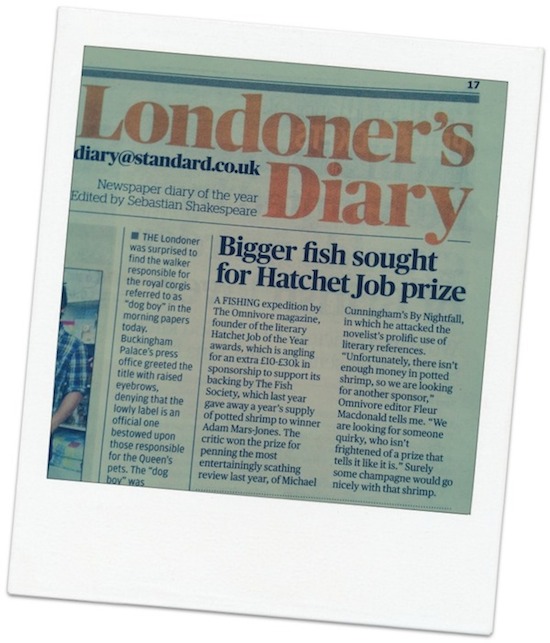 What is it?
Founded in 2011, Hatchet Job of the Year is an annual award for "the writer of the angriest, funniest, most trenchant book review of the past twelve months." It aims "to raise the profile of professional criticism and promote integrity and wit in literary journalism." Previous judges have included Lynn Barber, Francis Wheen, Sam Leith, Brian Sewell and Rachel Johnson.
The winner is announced in February and the ceremony is attended by the sharpest hacks in the literary world.
Who cares about it?
A lot of people: journalists and literary types, but also the wider public. In Hatchet Job season, The Omnivore website gets upwards of 50,000 visitors a month. The day after this year's winner was announced, 20,000 people logged onto the site to read AA Gill's review.
HJOTY has been written about in The Guardian, The Independent, The London Evening Standard, The Telegraph, The Times and The Sunday Times. International coverage has included mentions in The New York Times, The Los Angles Times and on NPR radio. It's been featured on Radio 4's Today programme two years in a row; enjoyed a guest spot on BBC2's The Culture Show and was mentioned on Have I Got News For You.
For full press links click here.
What will sponsors get out of it?
Book lovers and newspaper readers have a disposable income and appreciate the finer things in life. Sponsoring HJOTY is an engaging and entertaining way for you to talk to your client base with wit and sophistication.
Spend a fortune on a national press campaign or get more coverage, for a fraction of the cost, with a great party as a bonus?  Sponsorship would include exclusive hire of all the Coach & Horses for the award night. Apart from HJOTY 2014, this has only been done once before in the pub's history so it would make for an extremely special night.
Want more information?