Author Pitch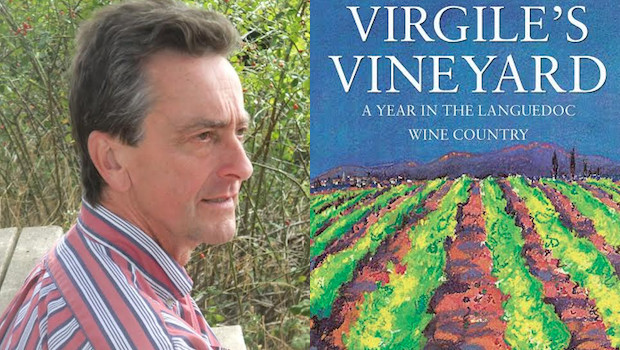 Published on November 29th, 2013
0
Author Pitch: Virgile's Vineyard by Patrick Moon
Virgile's Vineyard, Patrick Moon's book about wine-making in the Languedoc, got rave reviews when it was first published in 2003. After the book went out of print, Moon decided to republish it in a new, updated edition. Prospective readers beware: some people have been so bewitched by Virgile's Vineyard they've ended up buying houses — and even a vineyard — in the Languedoc.
Tell us a bit about yourself:
I used to be a solicitor in a large City practice but, having reached my mid-forties, I felt there ought to be time in life to achieve more than one thing and so – to the consternation of friends and family – I resigned my partnership. I didn't quit the law in order to write. I was too busy being a lawyer to know what I wanted to do next, but writing (and painting) is what I ended up doing. Oh, that and being a small-time farmer, tending olive trees and vines, in the Languedoc region of Southern France, which can all too easily become all-consuming. I have, however managed three books, all now published by Matador. Two concern the Languedoc – Virgile's Vineyard (of which more below) and its food-related sequel, Arrazat's Aubergines, in which I work-shadow a young chef. The third – What else is there for a boy like me? — is totally different and deals with my other great love: India.
Who are your favourite authors?
A tough one… there are so many! I rarely read books about France, with the exception of my current read (see below) Conversely, I do read a lot about India, both fiction and non-fiction, and favourites there would have to be Trevor Fishlock for 'non' and Rohinton Mistry for fiction. I'd stick my neck out and say that, for me, his A Fine Balance is the best novel of all time.
What book are you reading now?
The Secret life of France by Lucy Wadham. We all know that the French are different from us, but this book explains convincingly why.
Tell us about Virgile's Vineyard:
Well, living in the Languedoc for much of my time, it's difficult not to be excited by the wine-making there. Not just the quality of the wines, but the huge diversity of what's on offer. And yet, not so long ago, the region was best known for quantity, not quality, as one of the major contributors to the European wine lake. I wanted to find out how this important 'revolution' had come about and what kind of people had made it happen.
I also wanted to find out what it took throughout the year to make great wine. I'd been a wine-lover all my adult life, but I had very little idea how it was actually done. So I persuaded a promising young wine-maker, Virgile Joly, to let me work-shadow him from January through to December, experiencing first-hand just about every stage of the (often back-breaking) work, in the fields and in the cellar. He proved to be a fantastic teacher, but what really made the story so compelling was the fact that he was always aiming at absolute perfection, yet had very little equipment and even less money to buy any!
Mixed in with all of this is a smattering of roughly two thousand years of local winemaking history, starting with the Greeks and Romans and moving right up to the present day, all explored in a series of entertaining 'field-trips' And the final dimension is that of my own life struggling to get to grips with a dilapidated house and its overgrown acres, sometimes aided and sometimes thwarted by my dipsomaniac rogue of a neighbour.
The book was first published in 2003. What made you decide to update it?
The original sold quite well and reprinted several times; but then eventually it went out of print. However, I kept running into people who were frustrated that they couldn't buy it – except rather dog-eared on eBay. So I was already thinking vaguely about how to address the problem, when I got an order from an Internet-based wine merchant that Virgile was working with, Naked Wines. They wanted 10,000 copies, which did ever so slightly focus my mind! And this time round, a self-published approach, with complete control over design, sales and marketing, seemed much more attractive than the more conventional route that I'd been down before, first with John Murray and then with Profile.
What's new in this edition?
I've added a new chapter at the end bringing the story of Virgile up to date. I was very lucky. When I wrote the book, he was a completely unknown quantity, operating on an absolute shoestring; but now he's turned into quite a star in the region and I needed to explain that. I've also updated my own story, including my own first ventures into wine-making – at a rather different level!
Virgile's Vineyard had great reviews and sold lots of copies. But what did the people you write about in the book make of it?
The most important thing is that Virgile himself is a big fan of the book and I think most of the other wine-makers, restaurant owners and so on that I've featured in the book are pretty happy with the way they've been presented. As for the more eccentric of my neighbours, let's just say that I haven't exactly rushed to get a French translation organised. I've changed some names and juggled people around a bit, but people do still have a habit of recognising themselves!
Do we have to know a lot about wine to enjoy your book?
Absolutely not. It's certainly not a heavy-going technical book. Its aim is to amuse and inform at the same time. The wine writer, Jancis Robinson even said it 'can just as easily be read by teetotallers as by wine fanatics'; but many readers who do enjoy a glass of wine have told me how much they enjoyed learning a lot more about how it's done, without their really noticing. The only 'health warning' to readers is that some have told me they've bought houses in the Languedoc because of my book and one even bought a vineyard!
Imagine your ideal reader: which authors do they enjoy?
The book seems to have appealed to such a wide variety of readers that it's very difficult to say. The food and wine journalist Paul Levy once described it as 'the perfect antidote to Peter Mayle', but it certainly does appeal to lovers of that whole 'Brits coping abroad' genre. It's just that there's a lot more 'content', for want of a better word, for those who don't mind being taught a little, while they are entertained.
Which wine (and food) would be served at your last meal?
The wine would definitely be the white from the Languedoc property La Grange des Pères (sorry Virgile) – simply incredible power, elegance and complexity. And the food? No question: scrambled eggs with grated summer truffles. And plenty of them!
Buy Virgile's Vineyard (paperback and ebook)