Hatchet Job 2014 | Previous years | Manifesto | Press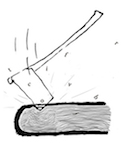 Claire Harman on Silver: A Return to Treasure Island by Andrew Motion
EVENING STANDARD
IF SEQUELS to other authors' works are tolerable at all, they are only so as homage, a sort of fan-mail, addressed primarily to other fans. Anything else smacks of hitching a free ride and the idea of "a worthy sequel", which is how the publishers describe Silver: Return to Treasure Island, is downright impertinence.
So it's hard to approach this follow-up to Robert Louis Stevenson's classic pirate yarn with a spring in one's step, even though it is written by Andrew Motion, respected poet, professor of creative writing and, presumably, a fan of Treasure Island. How could it be anything better than a bit of Yo ho ho hum?
Here's Jim Hawkins Junior, living with his cranky dad in a Thames estuary pub in 1802. And here comes a mysterious half-caste girl in a boat; she's the daughter of Long John Silver, who has survived another 40 years after jumping ship at the end of the real book (the famous pirate was meant to be over 50 then, so is doing well).
He also runs a pub on the Thames, emblematically made of bits of scrap and featuring a room shaped like an eyeball — but there's no need to worry what all that's about: even though Motion's story is called Silver, it abandons its greatest asset immediately and goes off in search of the other sort, the horde that was left on Treasure Island.
Every kind of seafaring cliché is required to get the young folks there — evil-looking crewmen, a kindly officer, grog, cursing, man overboard, an albatross. They arrive at Treasure Island to find that the three pirates abandoned there 40 years back are not simply still alive but have managed to overpower dozens of shipwrecked slaves and guards, creating an evil empire that must be defeated before the treasure can be claimed.
It's not just that this plot is both boring and implausible, the characters as wooden as absent Silver's leg and the sentiments screamingly anachronistic (the good guys are all 21st century liberals), but at every turn the former Poet Laureate clogs the works with verbiage. Every act of senseless violence Jim witnesses prompts a gem of cod philosophy or a reverie on his mental state and at every crisis a dreamlike inertia takes hold, as if the characters all sense that the author lacks the correct co-ordinates.
"Those people we saw were certainly in difficulties," says the kindly captain, to which Jim replies "Great difficulties. Terrible difficulties."
"'Because of his wife?' I said. 'Because of his wife,' she repeated. 'Because of his poor wife'."
"I must mention one further thing before I continue any further," the narrator insists. Please don't. We got the message very early in this 400-page book: "I expected the captain to say something about this, if only as a means of filling more minutes."
Motion has written novels before, and they have been the least successful of his works (so much so, some have disappeared from his list of previous publications). You'd think that studying Stevenson might have helped him a bit, but he's missed a vital lesson of this particular master.
Apart from being a superlative story-teller and inventor, Stevenson knew exactly who his audience was: boys. Motion doesn't have a clue who he's addressing, or doesn't care.
This article originally appeared in London's Evening Standard on 23/03/12
Read all reviews for Silver: A Return to Treasure Island by Andrew Motion

The Omnivore on Twitter | The Omnivore on Facebook | Sign up for The Omnivore Digest