Omnivore Pin-up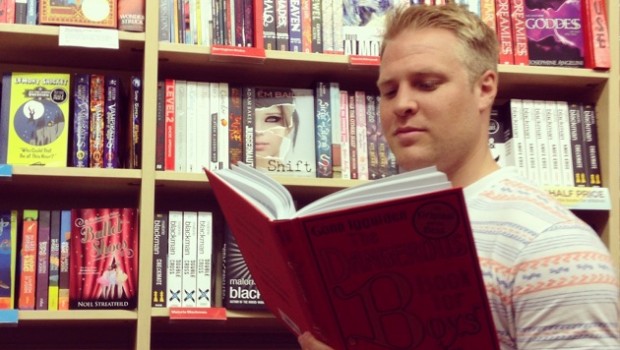 Published on July 1st, 2013
0
Omnivore Pin-up: Jack, 27, Putney
Former Oxford Blue heartthrob and now super-pundit Gary Neville's right-hand man, Jack is 27 and lives in Putney. He is looking for the Wilma to his Wally. Ask Jack out via love@theomnivore.com quoting Box No. 0507.
What are you reading at the moment?
I'm currently reading The House of Silk by Anthony Horowitz. It's billed as "The New Sherlock Holmes Novel" (or at least it was in 2011).
I've been a huge fan of the original Holmes stories since the age of 12 so I was a little nervous about reading this but it's standing up pretty well at the moment.
What have you just finished reading?
The last thing I read before was Piccadilly Jim by P.G. Wodehouse.
I've read all the Wodehouse Jeeves canon previously but not really delved deep enough into the rest of the P.G. repertoire. I wanted a light, summer romp to read whilst breeze bathing and it delivered.
What will you read next?
I've just bought The Numbers Game: Why Everything You Know About Football Is Wrong by Chris Anderson and David Sally. It's a bit of business meeting pleasure for me as I work in television production, mainly on football.
Moneyball by Michael Lewis one of my favourite books of all time and this is seeking to be a bit of a football version so I'm looking forward to it.
Which author do you have a crush on?
I'm not sure I have a crush on any authors. A quick internet search has revealed some pretty attractive female authors but I've not really heard of many of them.
Lucy Porter must have written a book I have a slightly strange crush on her.
Oh, and I've always fancied meeting a young Miss Marple so by association I'm going to say Agatha Christie.
What's the sexiest thing you've ever read?
Do guys read 'sexy books'? I don't think I ever have.
I remember reading a few pages of my sister's copy of Forever by Judy Blume when I was about 11. That's as close as I've got.
Which book would you give someone you're trying to impress?
I'd probably give them a copy of a particularly difficult Where's Wally? In which I'd circled Wally in each puzzle. I think that would impress a girl.