Omnivore Pin-up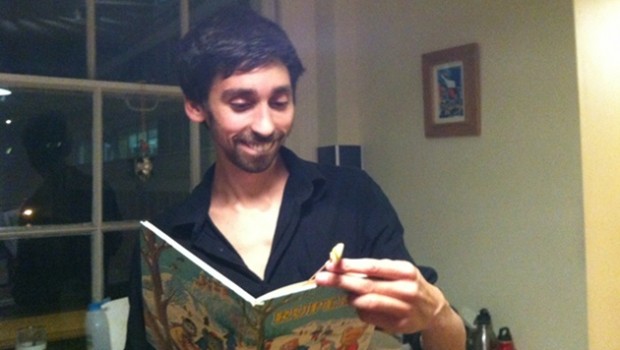 Published on November 13th, 2013
0
Omnivore Pin-up: Glenn McAdam, 27, Twickenham
Affordable dinner guest, broomstick analyst and sexual pot-au-feu, Glenn McAdam is 27 and from South London. Find out more about the man of mystery here. To invite Glenn to your dinner party, email love@theomnivore.com quoting Box 0407.
What are you reading at the moment?
The Thief by Fuminori Nakamura. (I haven't started it yet. I wanted to read a thriller and the book man in the shop recommended it. I didn't trust him actually, but I still bought the book.)
What have you just finished reading?
Lockwood & Co by Jonathan Stroud. (Finished this ten minutes ago. It's hyped as the next big YA adventure series, about three children who run a ghost investigation agency. Because Britain's being haunted a lot for a reason no one can tell.)
What will you read next?
Maybe something by Richard Brautigan or Mark Twain's autobiography. I like them. Actually I have quite a big waiting list of books. There's a Portuguese one I can't remember the name of.
Which author do you have a crush on?
(Don't really like this question.) I really don't know. I'm going to just say Mary Rayner because she's had a big impact on me. She wrote books about little pigs and wolves, and I got the chance to speak to her on the phone once. She was so lovely.
What's the sexiest thing you've ever read?
If you're a hungry reader when you're little, you go for all the books you find on the bookshelves, and end up stumbling upon all kinds of strange passages. I remember finding scenes in John Fowles and in Jaws and in a load of others. I've never read any sexy books but I can remember finding odd sexy paragraphs.
But (apart from things like the pretty girls in Asterix) one example of a sexy thing I read when I was really young was a bit in The Naked Ape when they talked about physiological signs of arousal in chimpanzees. Remember finding it intriguing.
Which book would you give someone you're trying to impress?
To impress them? Obviously it depends on the person, but if I wanted to surprise them with something wonderful they hadn't read, maybe it'd be Dominic by William Steig – all about a plucky little dog going on an adventure, with lots of very moving episodes.