Omnivore Pin-up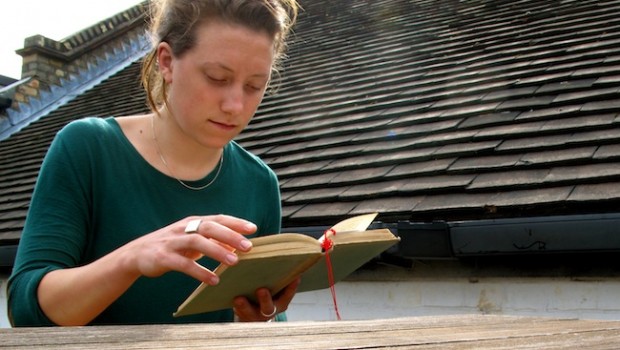 Published on June 18th, 2013
0
Omnivore Pin-up: Ella, 25, South London
Green-fingered Ella is a 25-year-old researcher in food and farming who moonlights as a garden coordinator. Originally from Cambridge she is now enjoying being down and out in Elephant and Castle. Ask Ella out via love@theomnivore.com quoting box no. 1806.
What are you reading at the moment?
Epiphany: True Stories of Sudden Insight to Inspire, Encourage, and Transform by Elise Ballard. Recommended by Ken Robinson in Why Schools Kill Creativity, this book notes some character defining moments of various a, b and who? list celebrities and is perhaps more gossip column than self-help book – but it somehow manages to create something better than its parts – highly recommended.
What have you just finished reading?
Born to Run by the wonderful New York Times columnist Christopher McDougall. One of the best books I've read in months – an incredibly thoughtful book about the anthropology and gimmicks of running culture and good pub chat material.
What will you read next?
The Botany of Desire: A Plant's-Eye View of the World by Michael Pollan and George Orwell's Down and Out in Paris and London.
Which author do you have a crush on?
Er, don't think I've ever had a crush on an author. Perhaps… I read Georges Perec's Species of Spaces and Other Pieces for my undergraduate thesis where he shares commentary on every detail of his day, quite literally… 'The door handle was gold plated and brazen in the sun, yet felt cold and hard to touch"… it was a little tortuous but I had a strange affinity with the man when I triumphed at the end of it.
What's the sexiest thing you've ever read?
1689 Shades of Beige… no. Fritjof Capra, Hidden Connections (Small, Local, Open, Connected).
Which book would you give someone you're trying to impress?
Reader's Digest, How To Do Just About Anything.