Music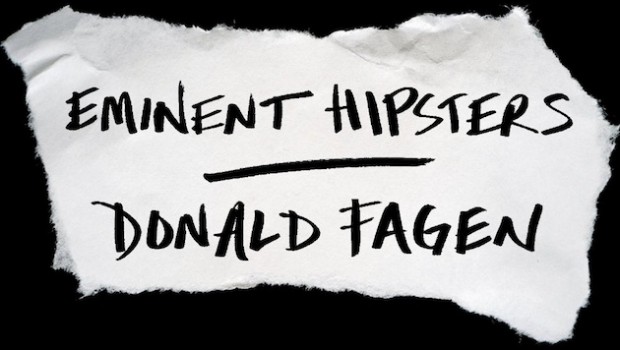 Published on November 18th, 2013
0
Eminent Hipsters by Donald Fagen
| Press reviews | Buy the book | Have your say |
Blurb: In Eminent Hipsters, musician and songwriter Donald Fagen, best known as the co-founder of the rock band Steely Dan, presents an autobiographical portrait that touches on everything from the cultural figures that mattered the most to him as a teenager, to his years in the late 1960s at Bard College, to a hilarious account of a recent tour he made with Boz Scaggs and Michael McDonald.
Read more
Fagen begins by introducing the 'eminent hipsters' that spoke to him as he was growing up (and desperately yearning to be hip) in suburban New Jersey in the late 1950s and early 1960s. The figures who influenced him most were not the typical ones – Miles Davis, say, or Jack Kerouac – but rather people like Jean Shepherd, whose manic, acidic nightly radio broadcasts out of WOR-Radio had a tough realism about life and 'enthralled a generation of alienated young people'; Henry Mancini, whose chilled-out, nourish soundtracks, especially to films by Blake Edwards utilised the unconventional, spare instrumentation associated with the cool jazz school; and Mort Fega, the laid back, knowledgeable all night jazz man at WEVD, who was like 'the cool uncle you always wished you had'. He writes of how, growing up as a Cold War baby, one of his primary doors of escape became reading science fiction by such authors as Philip K. Dick, and of his regular trips into New York City to hear jazz. Other emblematic musical heroes Fagen writes about include Ray Charles, Ike Turner, and the Boswell Sisters, a trio from the 1920s and 30s whose subversive musical genius included trick phrasing and way out harmony.
'Class of '69′ recounts Fagen's colourful tumultuous years at Bard College, the progressive university north of New York City that attracted a strange mix of applicants, including 'desperate suburban misfits with impressive verbal skills but appalling high school records' (like himself). It was at Bard that Fagen first met Walter Becker, with whom he would later form Steely Dan. The final section of the book, 'With the Dukes of September', offers a day-by-day account of a tour Fagen undertook last summer across America with Boz Scaggs and Michael McDonald, performing a programme of old R&B and soul tunes as well as some of each of their own hits. Told in a weary, cranky, occasionally biting and always entertaining voice, Fagen brings to life the ups and downs and various indignities and anxieties of being on the road – The Dukes were an admittedly 'low-rent operation' compared to a Steely Dan tour – as well as communicating the challenges and joy of playing every night to a different crowd in a different city.
(Jonathan Cape, 2013)
Anthony Quinn, The Guardian 
"This book is a piece of pure bliss, and it's not even the book I thought or hoped it would be … Fagen, for all his cynical patter, retains the steady, unfakeable rigour of the true enthusiast. He takes his old idols seriously, and wants us to understand why they mean so much … even at his most audience-weary and misanthropic he saves himself with a killer turn of phrase…"
---
Marcus Berkmann, The Spectator 
"…he wrote some columns about old music for Première magazine and others. The more autobiographical of these have fetched up in Eminent Hipsters and they are good fun, although the youthful enthusiasms of others are never quite as interesting to us as they are to them. To bulk out the book, though, Fagen has thrown in a tour diary he wrote in 2012 of a summer-long jaunt he took across the US with Boz Scaggs and Michael McDonald … this is moaning of the highest order — jazz moaning, you might call it — and Fagen keeps it up for 70 brilliant, hilarious pages."
Read full review (£)
---
Bernadette McNulty, The Telegraph 
"…his "art-o-biography", much like his music, is nerdishly clever, entertainingly original and even a moving reconfiguration of the memoir format… Fagen succumbs to what he calls Acute Tour Disorder, or what others would call hypochondria, misanthropy and the severe grumps. But he presents it with such style and humour, you're almost willing him back on the tour bus, if only to get another volume like this out of him."
---
Aidan Smith, The Scotsman 
"The writing is sharp, wry and elegant, without a single wasted word: the Dan, doncha know, were never Aerosmith, On the subject of his combo, though, he teases and tantalises and there's part of me which wishes this most unconventional of rock stars had published a conventional rock biog."
---
Buy the book
Amazon | Foyles | Hive | Waterstones