Author Pitch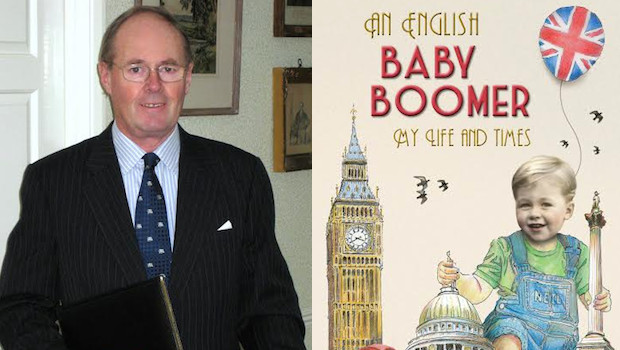 Published on May 14th, 2014
0
Author Pitch: An English Baby Boomer by Neil Hall
Neil Hall describes his memoir, An English Baby Boomer, as "a personal and very energetic romp through the second half of the twentieth century". In this Author Pitch, he discusses his favourite memoirs, reveals what was the hardest bit of the book to write, and responds to accusations that the baby-boomers stole their children's future.
Tell us about yourself:
I am a very energetic and enthusiastic person. Sitting in classrooms — especially at Marlborough College where I was in the same house that Kate Middleton eventually occupied, did not appeal — and I was off on my bicycle at every opportunity. Aged 19, no further formal education for me, so a pal and I started a decorating business in London's West End. In the beginning we did the work ourselves but soon boasted a team of well qualified employees. Initially we only had £100 in the bank but the business lasted for 17 years and we met all sorts of fascinating people and went through life-changing experiences in the swinging can-do sixties. Marriage to an American, a growing family and all sorts of ups and downs followed, including an episode when we imported sheepskin coats from Turkey — the first to do so — for the entrepreneur Irvine Sellar who recently financed the building of The Shard. Would he have got where he is today without me?
Years later, itchy feet resulted in taking a flat in Istanbul — that fabulous city where our aged English cat lies buried in the grounds of the Crimean Memorial Church — and following my son, Tarquin, to the wild corners of North West Pakistan and the Khyber Pass. All these stories (and more) are in my book, a personal and very energetic romp through the second half of the 20th century.
Who are your favourite authors?
I always read the books of Tahir Shah as he is an extraordinary adventurer and risk taker. He is also a deep thinker and I got a lot out of his recent anthology Travels with Myself. Having been involved in property renovation I found his book The Caliph's House especially fascinating. The house is in Casablanca. I also read his father, Idries Shah's, books which relate to Sufi thought. Doris Lessing was a good friend and her Memoirs of a Survivor made a huge impact, as have the mysteries of Donna Leon.
What are you reading at the moment?
The Case of The Love Commandos by my son, Tarquin Hall. He has written seven books and the four novels about the Indian detective, Vish Puri, have been described by Alexander McCall Smith as 'little gems'. The Red Nile by Robert Twigger is next on my reading list.
What's the best memoir/autobiography that you have read?
The classics, My Early Life by Winston Churchill and Goodbye to All That by Robert Graves (whom I met), but I have recently enjoyed The Great Silence by Juliet Nicolson which describes life in England after the Great War and Cherry which is a biography by Sara Wheeler of one of the explorers who went to the South Pole with Scott. Striking an entirely different note, I also recently read a charming autobiography by the children's writer Rosemary Sutcliff — Blue Remembered Hills.
What made you decide your life story needed telling?
This was really a two-way process. Initially I started tapping way to on the PC as I had succumbed to an overwhelming urge to write the story of my life. Perhaps this was a therapeutic or cathartic experience — the need was really within myself. The memories started to flood in and after a year or so I began to realise that I had an interesting story to tell. A topsy-turvy life through ever-changing social, cultural, technological and other circumstances. A friend commented that most people have interesting lives but not everyone has the determination to write it all down or the skill to make it readable. From feedback that I have received I think I have scored on both accounts.
What's the most scandalous revelations in your memoirs?
If you mean the 'naughty' bits, they relate to the mischief that my friend, Leon, and I got up to in London's swinging sixties.
What was the hardest bit of your book to write?
Describing the tortuous decision process as to whether or not to keep our baby in 1968 when my then girlfriend — now my wife — became pregnant. Thank God we did. The baby became our dear son, Tarquin. Readers have commented on the fact that I have been very honest in my book and have not shied away from grasping the nettle when necessary.
How do you respond to accusations that the Baby Boomers have stolen their children's and grandchildren's futures?
Isn't this part of the blame culture — one of the more insidious developments in our cultural heritage? Also, I'm not sure that the accusation is even accurate. A Baby Boomer like me would have been born in about 1947 and careers would be unlikely to have been established until well into the '70s when the annual inflation rate was roaring away at about 20/25%. Baby Boomers then needed to establish their families, their savings and their property against the background of a consumer onslaught. I am not sure that they can be accused of stealing anything. In fact it is the Baby Boomers who are responsible for the extraordinary technological revolution that we have witnessed. If anything, I would say that the parents of the Baby Boomers might be held responsible for not safeguarding their children's futures but think what they went through. Wars and the death of friends (my mother lost a fiancée), financial ruin, unemployment, and influenza on such a massive scale that more died than in the Great War. Personally, I would be reluctant to cast the first stone. Every generation has its trials and tribulations.
What life lessons can readers take away from your book?
I think the best way to answer this is to quote from reviews which highlight the impact the book has had on readers.
'The journey of the author is one of struggle and survival in the quickly changing English culture of the last sixty years'…'Risk-taking mostly driving by 'the seat of his pants'…'He navigates his way through the challenges thrown at him by fate, family and fortune'…'If you are a baby boomer read it and then pass it on to your children so they can better understand where we mysterious creatures come from.'…'The book will become part of social history for years to come'…'A book stimulating curiosity – the mark of a good read.'

I think Englishness – the ability to adapt, absorb impacts and persevere, sometimes against what appear to be insuperable odds, while retaining a sense of humour — is a life lesson that readers can take away from this book.
Buy An English Baby Boomer (ebook and paperback)
The Omnivore helps readers discover the best indie authors. If you would like to be featured on Author Pitch email authorpitch@theomnivore.com