Omnivore Pin-up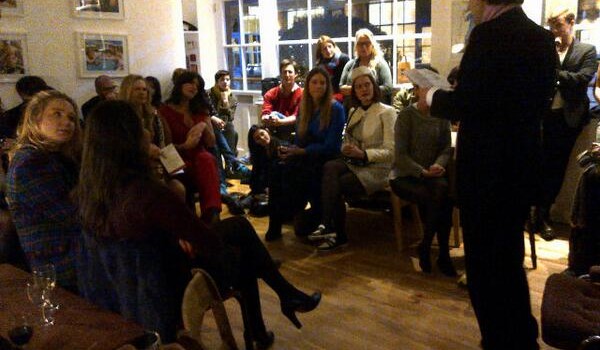 Published on October 30th, 2013
0
The Omnivore Pin-up Erotic Compendium
The Omnivore knows good sex*
*And isn't afraid to ask… you to come to The Omnivore Pop-up Pin-up Party.
Our world-famous Pin-ups - dateable, intellectual and never without a book - will be sharing the literary passages that get them hot under the collar. From Jilly Cooper's Riders to Norman Mailer's American [Wet] Dream to Emily Dickinson's racy graveyard antics, the evening promises a heady mix of a pleasure and perversion.
Read about how it all started in the Telegraph here.
Guests are encouraged to bring their favourite examples of erotic prose.Who needs Bad Sex when you can have good sex?
---
After the success of the Pageant last night at The Other Club, we decided to publish the list of the perverse and pleasurable poems and prose our Pin-ups chose. If you would like to ask any of them out, please write in to love@theomnivore.com.
Daisy - Elegy IV, Amores (Book II) by Ovid
Nick - Game of Thrones by George RR Martin
Natasha - A State of Heat by Sheilah Graham
John - Danziger's Travels by Nick Danziger
Beth - 1000 Kisses Deep by Leonard Cohen (poem)
Josh - the mating habits of bonobos from Wikipedia
Anna – Forever by Judy Blume
Jessica - An American Dream by Norman Mailer
Fleur – A Dangerous Fortune by Ken Follett
Unknown girl – Pablo Neruda poem
Lawrence - High Fidelity by Nick Hornby
Lottie – The Princess Bride by William Goldman
Emily – Fear of Flying by Erica de Jong
Digby - Les Chants de Maldoror by Lautreamont (aka Isidore Ducasse), book 2, canto 14
Ben – Bacchus & Me: Adventures in the Wine Cellar by Jay McInerney
Alex - 'Letter to the Twins' from Landing Light by Don Paterson (read in the LRB)
Nirpal - from his own unpublished novel.
More about The Other Club: a space for professional women in London founded by journalists Joy Lo Dico and Katie Glass. They are a pop-up space in Kingly Court just off Carnaby Street and are here for all the bright, brilliant women (and Pin-ups) in London.
The wine – Pouilly Fumé 'Karine Lauverjat' 2011 and Puy Castera 2007, Haut Médoc – we drank was provided by McKinley Vintners, an Agency House, and wholesaler for a range of 'boutique' wine producers. It was delicious!
"One should always be drunk. That's all that matters…But with what? With wine, with poetry, or with virtue, as you chose. But get drunk." Charles Baudelaire