Omnivore Pin-up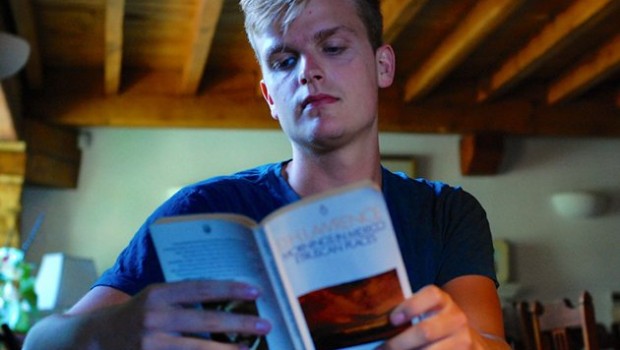 Published on July 22nd, 2013
0
Omnivore Pin-up: Henry, 23, London
Dreamy 23-year-old writer and journalist, Henry has a particular soft spot for American women writers. Ask Henry out via love@theomnivore.com. That's Box 2207.
What are you reading at the moment?
This Book Will Save Your Life by A.M. Homes, because I read and loved, May We Be Forgiven. I'm working backwards with her.
I'm also in the middle of Diary of a Man in Despair by Friedrich Reck, having just spent some time in Berlin, where I was sent the book by a generous twitter friend. It's this astonishing, often witty account of an upper-class German who loathed Hitler and regretted a missed opportunity to shoot him. I've never read anything like it.
What have you just finished reading ?
J.M. Coetzee's The Life & Times of Michael K. It was very, very bleak.
What will you read next?
I've heard so many good things about Karl Ove Knausgård and I'm yet to read anything of his, so maybe him. Although, at the top of the pile is J.R. Crook's Sleeping Patterns. (Looking at these answers, it seems I have a thing for initialed names.)
Which authors do you have a crush on?
Any with initialed names apparently.
What's the sexiest thing you've ever read?
Katherine Angel's book Unmastered: A Book on Desire, Most Difficult to Tell. In terms of mentions of sex per page, this wins. Or is that not what you mean by sexiest?
Which book would you give someone you're trying to impress?
The book I give, lend or recommend the most is Helen DeWitt's Lightning Rods. The book is thoroughly impressive, although I'm not sure I would be by giving it to someone.